Angela Benson Pippinger
Wednesday, January 23, 2008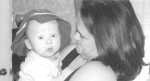 Angela Benson Pippinger, 31, of Harrisburg, passed away on Sunday Jan. 20, 2008, at NEA Baptist Hospital in Jonesboro.
She was born in Jonesboro on January 5, 1977.
Mrs. Pippinger was a homemaker and of the Baptist belief. She was a 1995 graduate of Trumann High School.
She leaves behind her husband, Derek Pippinger, of the home; a son Jay Lee Pippinger of the home; her parents, Gerald and Doris Benson of Harrisburg; a brother, Jody and Shannon Benson of Hoxie; her mother-in-law and father-in-law, Danny and Donna Pippinger; a sister-in-law and husband, Petina and Tim Cole; two nieces, Emily O'Connor and Rashawn Timbs; two nephews, Drake O'Connor and Dalton Cole; and grandparents, Bertie Blasingame and Charley and Dorothy Woodruff..
She was preceded in death by her grandparents, J.M. Blasingame, and Joe and Reva Benson.
Funeral services will be at 1 p.m., Thursday, Jan. 24 at Pleasant Grove Church in Harrisburg with Larry Loggins and Kevin Smith officiating. Burial will follow at Bolivar Cemetery. Visitation will be from 5 to 8 p.m., Wednesday night.
Pallbearers will include Nick Lowery, Brent Henderson, Jordan Long, Joey Craig, Chris Coots, and Gary Neal. Honorary pallbearers are Michael Trotter and friends and members of her high school volleyball team, Autumn Muse Osment, Stacey Moon Bailiey, Allison Wilcox Richardson, Danni Williams Hicks, Sherry Smith Jones and Jereece Anthony Jones.
An online guestbook may be signed at www.rollerfuneralhomes.com.