Mexican Taco Express open for business
Wednesday, April 30, 2008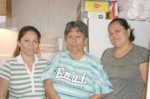 Trumann now has a new family restaurant to dine at. The Mexican Taco Express opened its doors to the public nearly one month ago. The restaurant is really family friendly, because it is ran by family members.
Gladis Cortinas decided to open the restaurant because she likes to cook and wanted to share her delicious food with patrons of Trumann. Her sister Carla Ortega and mother, Alajandra Coronado also help her with cooking and waiting on customers.
Cortinas daughters, Amparito Cortinas and Analia Cortinas, also pitch in to help at the restaurant. The ladies all have a great time laughing and visiting with customers while preparing the food.
Cortinas moved to the Trumann area over nine years ago from Tamavlipas, Mexico.
She said she gets ideas of things to cook from seeing what other people cook and what other restaurants have available. She said she will see something that looks good and make her own version of the dish.
The restaurant, Mexican Taco Express, is located in the shopping center across from the old Burger King, on Hwy 463. All the food is prepared on site by the ladies. The restaurant is open for breakfast from 7 a.m. to 9 a.m. and then lunch and supper for the rest of the day. They are open Monday thru Saturday and every other Sunday.
They offer all types of home made Mexican dishes included tamales, enchiladas, fajita's and many, many more. Customers can call ahead, 483-0185, to have their orders ready for pick up.
Stop by the restaurant enjoy a great family friendly and fun environment and either eat in or take your meal home to enjoy.