Dyess has Cash concet
Wednesday, May 14, 2008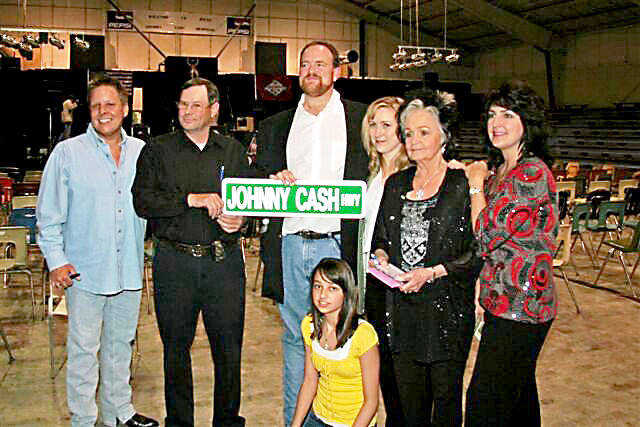 Members of the Johnny Cash family were out in force Saturday night, May 3, to take part in the "Cash Welcome Home Concert," at the Dyess Community Center.
John Carter Cash, son of Johnny and June Carter Cash, rented a large tour bus to bring the cousins, aunts and grandkids from the Hendersonville, Tenn. area to his father's hometown of Dyess for a unique fundraiser.
"I am so proud of the work the people are doing in Dyess to establish a memorial for this town and my father," John Carter Cash said. "They are working so hard, and need all the help they can get. Our family wanted to pitch in and do one of the things we enjoy most--making music."
The concert billing included John Carter Cash and his wife Laura, Aunt Joanne Cash Yates, and cousins Gary Cash and Rhonda Cash Ponessa. Other featured entertainers included J. R. Rogers and the All Star Band.
"I came to Dyess last August and looked out across the cotton fields that Dad spoke and wrote about," John Carter Cash said. "I feel awed by this place. My father's songs seem to bring back a certain energy to this place."
Cash went on to sing the crowd pleasers "I walk the line," "Don't take your guns to town," and "Five foot high and rising."
"A lot of people don't know that Dad was a real fast draw," Cash said. "He was just good with a gun. The flood song, as Dyess people all know, is about the food of 1937 that the Cash family lived through."
Joanne Cash Yates is the youngest female Cash sibling still living. She has a younger brother, Tommy Cash, who was unable to attend. Yates sang several familiar songs. She told of being born in Dyess and walking to school from out in the country.
"Today we drove around and looked at our old house, and places uptown," Yates said. "When my great-granddaughter Fallon heard me talking about walking every where we went, she asked, "Well how did you get to the mall?"
"We were delighted to see the chairs in the gymnasium fill up," said Dyess Mayor Larry Sims. "It was a celebration from the beginning of the day until the end. All the proceeds from the concert will go to complete restoration of the Dyess-Johnny Cash Memorial at the center of town. We are busy renovating the old Dyess Colony Administration Building for the memorial, as well as relocation of city hall, a museum, and a gift shop. The work is progressing well, but like everyone else we need more funding. We are not going to give up on this project until it is finished."
The Dyess-Johnny Cash Memorial Committee has built quite a support base for their efforts, and they try to make an appearance at all fundraisers and events.
Robbie Ward, Executive Director, of the "Johnny Cash Flower Pickin' Festival" held annually in Starkville, MS, told of the growing friendship between the people of Dyess and Starkville.
"Your Mayor and the members of the Memorial Committee came to Starkville last year for our festival," Ward said. "Johnny Cash was arrested in Starkville during his early years for picking flowers while intoxicated. He was kept in the city jail overnight. It must have made a big impression on him because he ended up writing a song titled "Starkville City Jail." Johnny Cash's life was all about forgiveness, and last year the City of Starkville gave Johnny a posthumous pardon for 2007. Our festival this year will be held October 17-19, and we hope to secure another year's pardon. Forgiveness is not a one time thing."
Joey Pruitt with the Rector Helping Hands Foundation was in attendance also. Pruitt served as coordinator for the documentary "The Gospel Music of Johnny Cash" which held a world premiere during Labor Day 2007, at the Rector Labor Day Picnic. Dyess committee members were at the premiere in support of the documentary's Executive Producer, Bill Carter, a Rector native.
State Representatives Ray Kidd, Charlotte Wagner and J. R. Rogers were also there to show their support. The list seemed endless, as Dyess Mayor Larry Sims worked though the introductions.
"We have a film crew here tonight from A & E television," Sims said. "They are making a movie "Johnny Cash's America" that will air in October."
Robert Gordon, with A & E, stated the film would be part documentary biographical and partly a discussion on American politics.
"Johnny was able to unify a diverse nation," Gordon said.
"We have a lot of things going on here in Dyess," Sims said." A couple of weeks ago we had two tour busses come to town, from Ireland. They wanted to hear all about Johnny Cash.
"Johnny grew up here and graduated from High School here," Sims said. "After the movie "Walk the Line" came out, interest in his home town has really picked up. We knew then that the time was right to raise money to build a memorial to him."
At the close of the Cash Homecoming Concert Mayor Sims presented John Carter Cash with a replica of the street sign in his father's name.
"We are naming the main highway into Dyess "Johnny Cash Highway," Sims said. "The street on the other side is named after another Dyess home town boys and a great supporter "Gene Williams."
"Everyone in town is proud of our rich musical heritage," He said. "Volunteers have worked hundreds of hours in helping us get as far as we have by hosting countless fundraisers and Dyess Days the first weekend in July each year."
Speaking of volunteers, Mayor Sims's wife Mary volunteered for a job Saturday night that she claims was the best one of all, taking care of John Carter's three children Joseph, 12, Anna Maybell, 6, and Jack, 2.
For more information about Dyess check out www.dyessday.com.