Parterniship committee meets
Thursday, July 3, 2008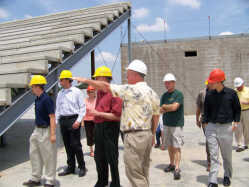 The Trumann Partnership for Safe and Healthy Children and Youth advisory committee met for the third time in the 2007-08 school year last Thursday.
The meeting was conducted by Karleen Sheets, Trumann School District Administrator for Curriculum and Instruction. The group discussed the 21st Century Community Learning Centers Grant, benchmark exam results and the Arkansas Consolidated School Improvement Plan (ACSIP). Sheets also provided updates on the physical education program grant the school recently received and statistics on workforce education.
Participants were also informed of programs available through Camp Wildcat being held thoughout the summer of 2008. Activities are available for first graders through seniors. Classes in softball, football, cheerleading, gymnastics, martial arts, volleyball and basketball are available as well as swimming lessons.
Thirty-one area residents met to discuss partnership issues. The group was served lunch in the Trumann High School Library. After discussion of several issues, the group toured the new Trumann High School complex on Main Street.
Superintendent Joe Waleszonia and THS Principal Jim Montgomery conducted tours of the new school construction.
Area residents attending the meeting were: Larry Rich, Sheila Walters, Gary Anderson, Rick Gillette, Zac Inboden, Barbara McClung, Mickey McDaniel, Betty Darr, Gerry Darr, Kelley Webb, Paul McAnally, Jerry Lynch, Mary Saddler, Kevin Beaumont, Julie Sartain, Hadyn Huckabee, Mona Dodd, Regina Stacy, Josh Parks, Vicki McClung, Karen Adams, Ami Henderson, Pauline Noel, Roger Herriott, Christie Dunman, Linda Clark and Charles Kirksey.