Rotary Club holding membership drive
Thursday, July 3, 2008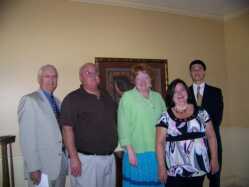 The Trumann Rotary Club will be holding a membership drive during the months of July and August, according to Karleen Sheets, president-elect of the club.
"Rotarians are business and professional leaders who take an active role in their communities," Sheets said. "Membership in Rotary also greatly enriches members personal and professional lives. The Rotary Club of Trumann contains a diverse group of professional leaders from the community."
The membership drive will kick off on Thursday, July 10 when new officers will be installed at the club meeting. Interested individuals are invited to attend the July 10 meeting at Couch's Bar-B-Que in Trumann. The club meets from noon until 1 p.m.
Officers for the 2008-09 year will be installed and District 6150 Governor Ray Keller will discuss the purpose and projects of Rotary.
The local Rotary Club has undertaken many projects in Trumann. Its major project in 2008-09 is to partner with the City of Trumann in the building of a pavilion at the Trumann Sports Complex. The club plans to assist the city in raising funds for the pavilion.
Other local projects undertaken by the Trumann Rotary are: distributing dictionaries to local third graders at Cedar Park Elementary, donating money to the Hyneman Christmas Project, purchasing books for distribution to young childre, and awarding college scholarships to Trumann High School seniors.
The primary purpose of Rotary is reflected in its motto: Service Above Self, according to Sheets.
"There are many reasons to join your local Rotary Club," she said. "We are seeking individuals who are interested in improving our community through service."
Rotarians are expected to attend weekly meetings, participate in community service projects and help sustain and increase club membership. Participating in Rotary also gives its members opportunities to enlarge their circle of business and professional acquaintances.
As members of the oldest service club in the world, Rotarians represent a cross-section of their community's business owners, executives, managers, political leaders, and professionals -- people who make decisions and influence policy. Rotary is a great way to network and make friends who share a common focus -- community service.
"If you are interested in seeing what Rotary is about, attend our next meeting as our guest," Sheets said. "Meet with us at noon on July 10 or contact a member of the Trumann Rotary Club."