Jimmy C. Turner
Thursday, July 3, 2008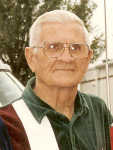 Jimmy C. Turner, 83 of Trumann died Thursday June 26, 2008, at St. Bernard's Medical Center in Jonesboro.
Born in and a lifetime resident of Trumann, he was a farmer, and a U.S. Army veteran serving as technical sergeant at the Clark Air Force Base in the Manila, Philippines. He was preceded in death by his parents, James Willis and Jimmie Lee Glasgow Turner, and one brother, Richard A. Turner.
Survivors include his wife, Patsy Turner of the home; two daughters, Judy and husband Tom Thomson of Daytona Beach, FL., and Missy Price of Trumann; one son, Jimmy N. "Butch" Turner of Jonesboro; one brother, Lee C. Turner of Gardnerville, NV; three sisters, Patsy Turner Smith and Bonny Turner Smelser of Trumann, and Mary Alice Phillips of Elk Grove, CA.; nine grandchildren, Patrick Farrell, Janet Farrell Akin, Amy Farrell McClellan, Holly Turner Rainwater, Neal Turner, Melissa Jill Khudheir, Rhett Bradford Turner, Jeffrey Thomson, and Douglas Thomson and 17 great-grandchildren.
Funeral services were Saturday morning in the chapel of Thompson Funeral Home with Dr. Tad Rogers and Rev. James Smelser officiating. Burial will follow in Jonesboro Memorial Park Cemetery in Jonesboro.
Pallbearers were Brent Smith, James Dean, Tom Martin, Chris Akin, Larry McClellan and Drew Price. Honorary Pallbearers were Frank Dean, Charles Stephan, Roy Wilson, Kelly Webb, Jerry McKinney, Frank Ray, Clyde Robertson, Alvis Houston, Bill Evans, Bill Cook and Crawford Harlan and Jimmy Parks.
Visitation will be Friday evening from 5 to 7 p.m. at Thompson Funeral Home.
Memorials may be made to the First Baptist Church in Trumann or the Susan G. Komen Foundation.
Online register book can be signed at www.thompsonfuneralhome.net.