Central Elementary celebrates benchmark progress
Wednesday, October 1, 2008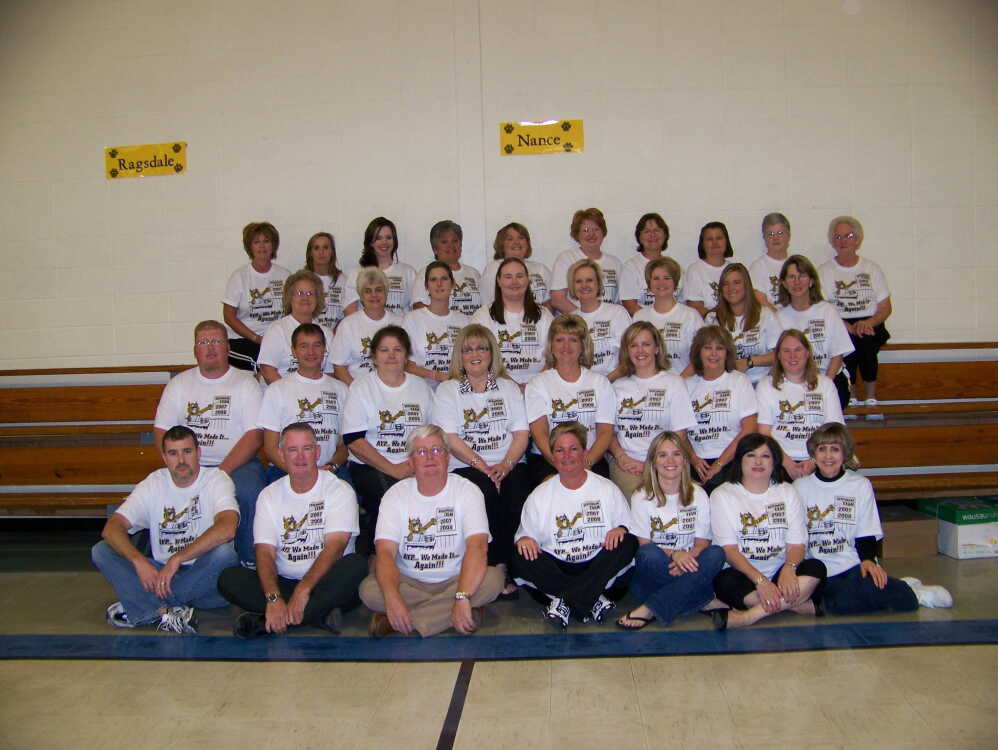 When the No Child Left Behind program became law, the landscape for local schools changed. Educators quickly became acquainted with terms like Adequate Yearly Progress (AYP), Benchmark Exams, School Improvement and subgroups.
Central Elementary School principal Bobby Benson said parents and the general public have trouble understanding the importance of student performance in literacy and math and meeting state standards.
"Students are expected to meet the proficient level of performance in literacy and math by the end of the 2013-14 school year," Benson said. "Each year the state sets a certain percentage of our students that have to do well on benchmark testing."
When Benson became principal of Central Elementary, the school was in School Improvement for failing to make AYP.
"When a school is in School Improvement, we have to provide additional services to help students meet the proficient level on Benchmark tests," Benson said.
Generally, when a school is placed in School Improvement, it takes two years to move out of the designation. In both the 2006-07 and 2007-08 school years, Central Elementary made AYP and moved out of school improvement. The school is now in good standing.
The school recently hosted a special celebration to praise its staff for their efforts in helping students to meet proficiency levels in literacy and math. Teachers were given Back 2 Back t-shirts and served a catered lunch and presented with certificates of appreciation for their hard work.
Eight Central students presented a program thanking the teachers for their hard work with students in preparing for Benchmark exams.
"This is a long overdue appreciation to the faculty and staff of Central Elementary," said student Abby Hatcher. "We wouldn't be the students we are without your support, patience and time."
Student Austin Jones thanked the teachers and staff for holding students accountable. "Thank you for being strict on us last year even when we didn't like it, but it helped," Jones said. "Thank you for encouraging us. Most importantly, thank you for believing in us when we didn't believe in ourselves."
Reagan Heilman sent out a special thanks to seventh graders at Trumann High School. "Even though they aren't here today, we want to say thank you to the students in the seventh grade," Heilman said. "They helped Central make AYP in 2007 and 2008!"
Central Elementary employs 12 regular classroom teachers and six specialty teachers.
Elementary classroom teachers are divided into six teams of two teachers each.
One team member is responsible for math and science courses and the other is responsible for teaching literacy and social studies.
Students receive art instruction for 40 minutes per week from a certified art teacher. Music, physical education, library and guidance classes are taught on an alternating basis each day. Grade six students are eligible to participate in a band program taught on the Trumann High School campus each morning.
The school also employs a media specialist, counselor, secretary, two office aides, computer lab manager, library aide and a special education aide. The school has a cafeteria manager, three cafeteria workers, maintenance worker and two custodians.
The school, which house grades five and six, has an enrollment of 233 students. There are 109 students in grade five, 114 students in grade six and 10 special education students.
Benson had his own words of praise for the Elementary students.
"Our students studied hard and prepared for the exams last spring," Benson said. "They listened and learned and put a lot of effort into preparing for the tests."
In early September, Central Elementary hosted a swimming party for it students at the Trumann Country Club.
"We wanted to show that we appreciated their hard work in preparing for the Benchmark exams," Benson said.
The students feasted on hot dogs and all the trimmings, plus cookies and drinks.
"Our students and staff worked very hard to make AYP," Benson said. "We are proud of the effort and hope to do well again in testing this spring."