Lions picnic to honor Teagues
Wednesday, October 1, 2008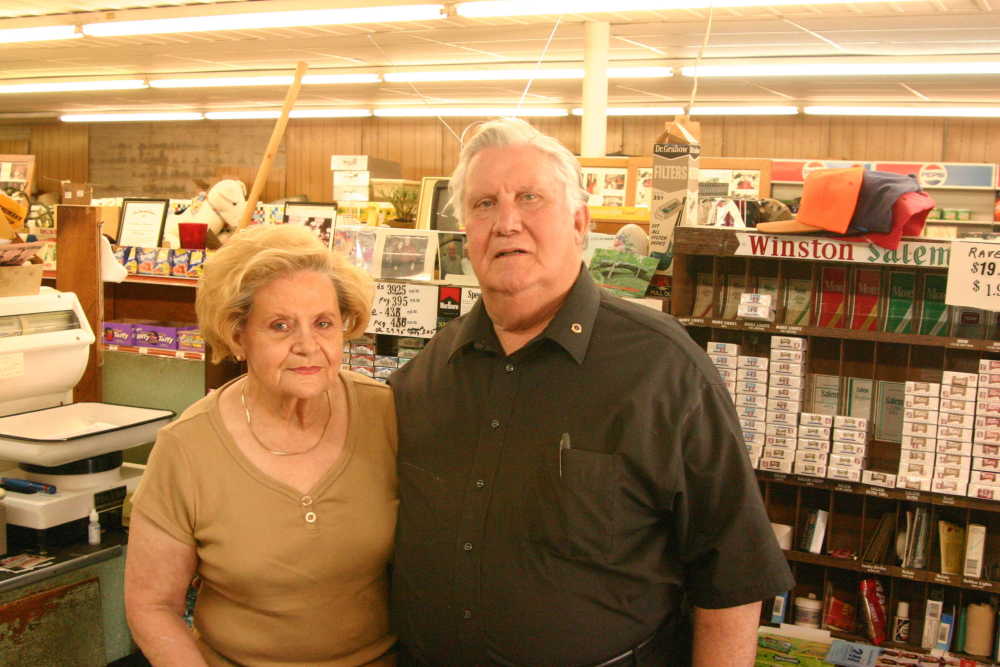 The Trumann Lions Club has always named their annual barbecue in honor of the memory of one of their deceased members.
This year though, club members decided to do something different.
The club voted unanimously to name the 2008 barbecue in honor of two volunteers without whose efforts over the years the event most likely wouldn't be possible -- Bill and Mary Teague.
"He is the one who gets the wood for it. He and Mary order all the meat and supplies and do the cooking, and just all the things we need to put the barbecue together," Lions Club president Betty Payne said. "This would not have continued had it not been for Bill."
This year will mark the 32nd time that the Lions have held the annual barbecue. The event is the club's single biggest fundraiser. The barbecue draws over 2,000 people and raises more than $10,000 for the organization which is used to help pay for glasses and eye operations for visually impaired children.
Teague said he was surprised by what the club did, but deeply honored.
He only had one minor suggestion -- that they add his wife's name alongside of his because she is just as much a part of the barbecue as he has been.
"Without Mary we wouldn't have a barbecue," Teague said. "I wouldn't be here if it weren't for Mary."
"While she doesn't attend the meetings, she holds down the store while he does," Payne added.
Even though the barbecue is a team effort among Lions Club members, Teague's contribution has been one of the biggest reasons why the event has continued for as long as it has.
As head cook and barbecue chairman, he and Mary begin preparing for the barbecue months ahead of time. A few weeks ago, Teague and helper Randy Betts spent an entire Saturday - over 12 hours - cooking 80 gallons of barbecue sauce.
And when the big day arrives on Nov. 1, they'll serve almost 4,000 pounds of meat, over 1,500 pounds of slaw and 500 pounds of beans.
"I don't know of anybody that puts this much work into it than we all do," Teague said. "I know I always look forward to it."
Time and age have creeped up on him and he is not physically able to do as much work on the barbecue as he would like, but despite the hard work involved, Teague said it's worth the effort.
"It's all about the children," Teague said. "It's worthwhile, and I know it helps."
The money raised over those 30 years has helped a number of children, but it is one blue-eyed little girl in particular whose memory will stay with him forever.
The girl was from a low income family who used to shop in his grocery store weekly. He used to watch as her brothers and sisters led her around the store.
One day Lions Club members Guy Beard and John Heard came in to the store and told him about a local family who had five year-old girl who was blind that they wanted the Lions Club to sponsor.
It turned out that it was the same little girl that Teague had seen in his store.
The Lions Club arranged for the girl to have surgery at Mid-South Methodist Hospital in Memphis and even paid for a room so the parents could stay while their daughter was being operated on.
The operation fixed the girl's eyes. One of her first wishes after gaining her sight was to go to Bill Teague's Market where she was able to pick out her own candy for the first time.
"I cried like a baby," Teague recalled of that moment. "It still makes me cry when I think about it. I will never forget it."
It was at that moment that Teague understood what it meant to be a member of the Lions Club.
"You can't pay for an operation on somebody's eyes. I can't," Teague said. "But if you belong to the Lions Club, you are. If you belong to the Trumann Lion's Club or any other Lions Club, every time somebody gets something like that, you get to be a part of it."
The family has moved out of the state and Teague hasn't seen her since, but she became the inspiration for the Lions Club barbecue.
"I don't know whatever became of her," Teague said. "But I know she can see. And that's enough for me."
Teague has put his passion for the Lions Club to good use, sponsoring 58 new club members over the years.
Lions Club District 7-O Governor John Blakely was on hand at the Sept. 24 meeting and presented Teague with a plaque and pin for his efforts.
"Any time you can be connected with something good -- and this is good -- is an honor," Teague said. "Every day there is a miracle behind this that helps somebody."