Fallen soldiers honored at Wall ceremoney
Thursday, October 2, 2008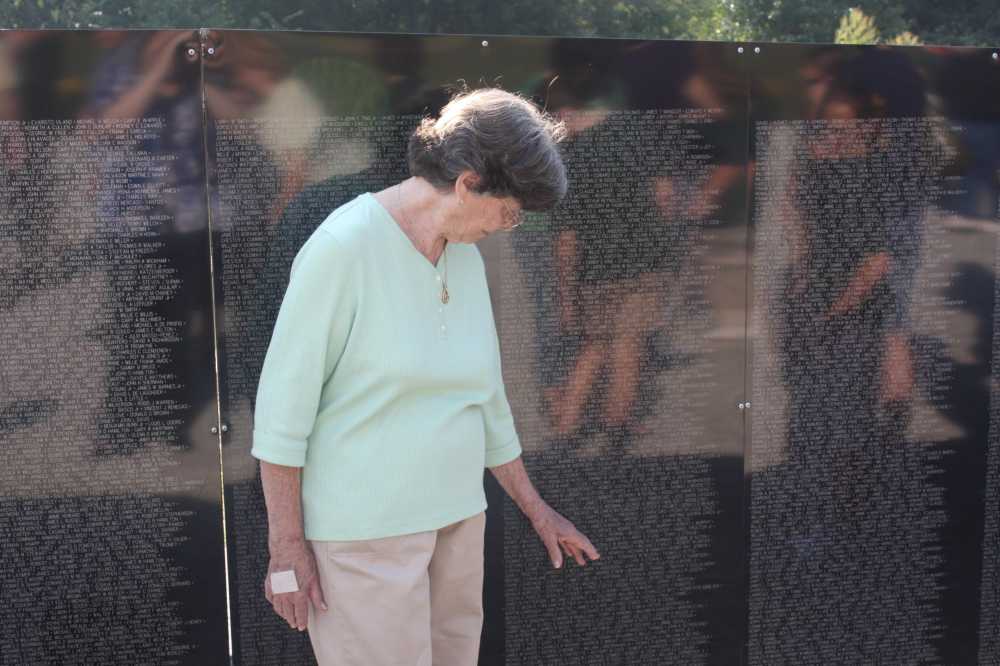 Over 50,000 names are engraved in its shiny surface and millions of lives were touched by their sacrifice. Husband, fathers, sons and brothers were lost forever to their families, but Americans have pledged to never forget the blood they shed for American freedom.
The memorial is the "Wall that Heals," a half-scale traveling replica of the Vietnam Memorial in Washington D.C.
The Wall was in Marked Tree from Wednesday, Sept. 24 through Sunday, Sept. 28.
There were several ceremonies and candlelight vigils held throughout the week including a special ceremony Saturday morning to honor the family members of the 16 men from Poinsett County who are listed on the wall.
Guest speakers State Representative Buddy Lovell, Marked Tree native BG Richard E. Swan and Congressional Medal of Honor recipient 1SG Nick Bacon shared their thoughts about the young men whose names were engraved on the wall.
"Liberty and freedom have found safety in the hands of our dedicated men and women, many of which gave their lives," Lovell said. "The Defense of democracy and freedom is costly, and more than 1 million men and women have died in our defense."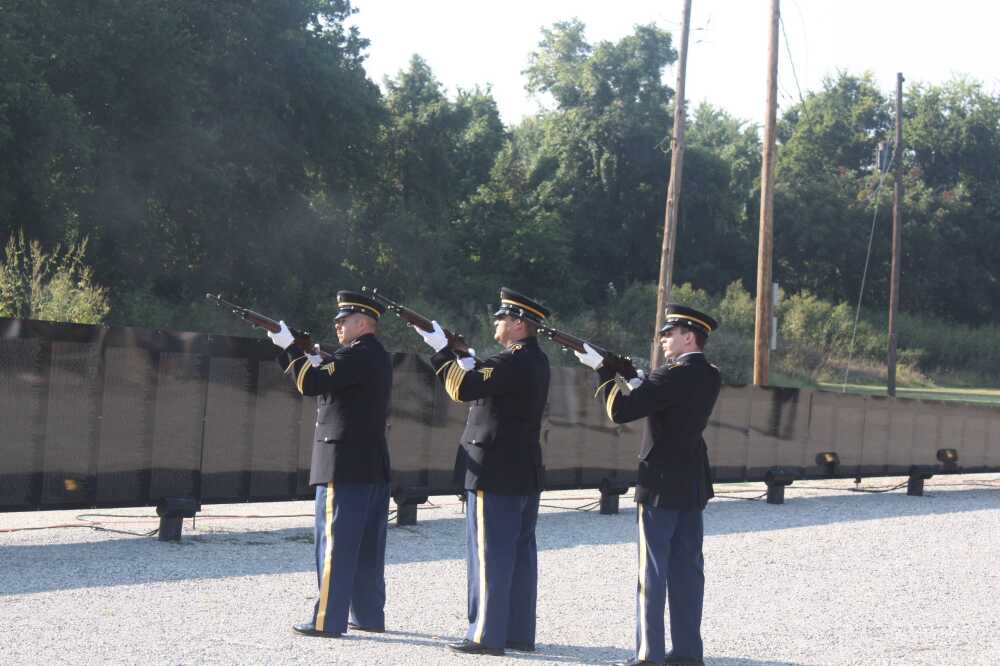 Lovell said the wall was, at the time of its conception, a controversial memorial for an even more controversial war. However, over the years, it has provided closure and healing for thousands of veterans and their families.
"It is stunning, despairing, yet uplifting," Lovell said of the wall. "Tears come to your eyes you realize the scope of it."
Lovell said the reflective nature of the wall was an intentionally designed element.
"When you look into the wall, you see your own face reflected there," he said. "Today let us not just visit the wall, but also visit our own hearts. Let us never forget the sacrifices made."
Swan, a 1975 graduate of Marked Tree High School, read a poem entitled "Names on the Wall" which paid tribute to those listed on the wall.
"Were gathered at the wall for two reasons," Swan said. "We're here to remember those who gave their lives, and this is an opportunity for those who did not serve to say thank you, we love you and welcome home to our veterans."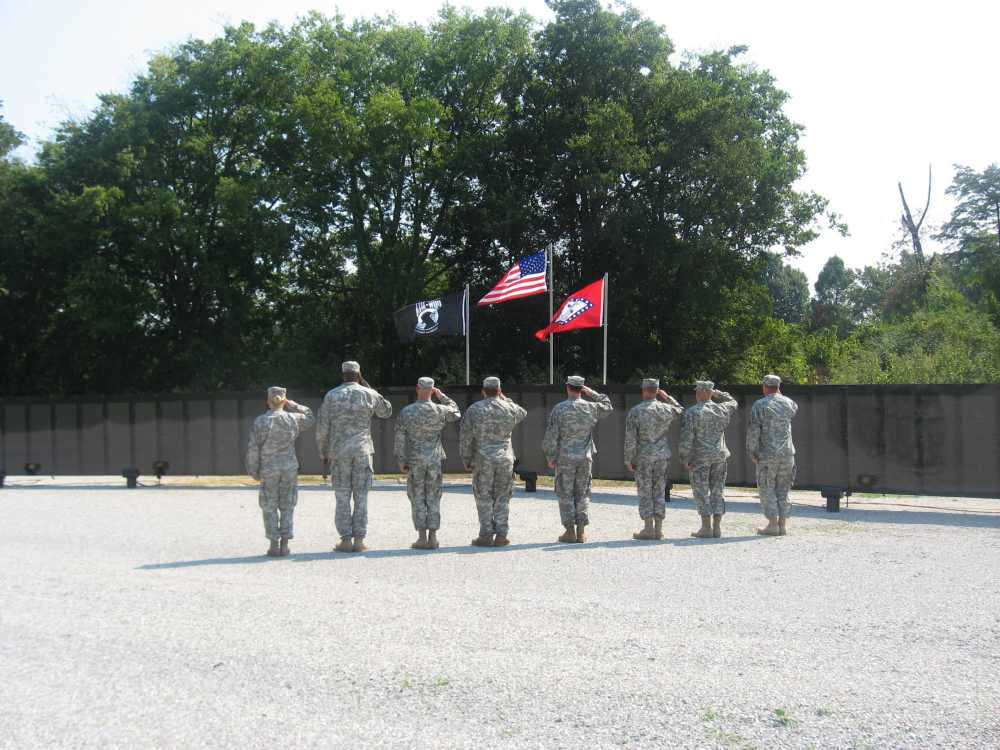 Swan challenged all those in attendance to keep the fallen soldiers in their hearts and minds.
"Warriors never leave a fallen comrade, and our nation never forgets our warriors," Swan said.
The keynote speaker of the event was Congressional Medal of Honor recipient 1SG Nick Bacon.
Bacon was born November 25, 1945 in Caraway. He began his military career in 1963, serving with the U.S. Army and completed two tours of duty in Vietnam in the late 1960's. It was during his second tour, for which he volunteered for as a squad leader, that his strong leadership abilities began to show. Bacon was deployed with the soldiers he had just trained in Hawaii. In 1968 "his company came under intense enemy fire. Bacon quickly organized his men and led them forward in an assault, destroying a hostile bunker with grenades. As he did so, several fellow soldiers, including the platoon leader, fell wounded. The 22-year old Bacon immediately assumed command and killed the enemy gun crew in a single-handed effort. When another platoon's leader was also wounded, he again took charge. As a result of Bacon's extraordinary leadership, his company was able to move forward, eliminate the enemy positions, and rescue men trapped at the front."
In addition to the Congressional Medal of Honor, Bacon has received the Distinguished Service Cross, Legion of Merit, Bronze Star, Combat Infantry Badge, Purple Heart, Army Commendation Medal, Good Conduct, Viet Nam Cross of Gallantry, V.N. Service Medal, V.N. Campaign Medal, National Defense Ribbon, Army Service Ribbon, and four overseas ribbons.
Bacon gave a passionate speech that highlighted the humanity of the soldiers who were killed in Vietnam.
"There are 22 soldiers on the wall for every man, woman and child in Marked Tree," Bacon said. "Every name belongs to a person as real as you and I. That person had hopes and dreams as you and I.
The tie that bonds them is they died in service to our country. I fought beside many of them. In a way, we were all brothers."
Bacon said every generation seems to be tested in some way by war, including the soldiers fighting in Iraq and Afghanistan.
"The sands of Iraq and mountainous areas of Afghanistan have little in common with the jungles of Vietnam," Bacon said. "But the wars have much in common. They are fighting and enemy that is hard to recognize. They have endured and served valiantly. A few have given, as Abraham Lincoln said, 'their last full measure of devotion' when they gave their lives."
Always the patriot, Bacon said America was a country worth sacrifice.
"Never has there been a nation like ours," Bacon said. "We have a lot to live for, a lot to fight for and sometimes a lot to die for."
Bacon said the wall represented voids that will be forever felt by the families who lost their fathers, husbands, sons and brothers. Still, he said, those sacrifices will never be forgotten.
"Their sacrifices are honored. Every day the sun rises on freedom it is a tribute to American soldiers and the blood they shed."
The ceremony ended with a special reading of the names of the Poinsett County men who are listed on the wall.
As the name of their fallen soldier was read, family members were escorted to the wall for a private moment of reflection.
The ceremony also included a 21-gun salute, bagpipe music and a mournful rendition of taps.
Poinsett County veterans listed on the wall include: Teddy Gene Talley of Marked Tree, John Henry Stout of Lepanto, David Harold Johnson of Trumann, Hugh Don Scott of Lepanto, James Erlan "Jackie" Teague of Harrisburg, Bobby Gene Hastings of Trumann, Terry Wanye Birmingham of Trumann, James Carl Payne of Marked Tree, William A. Clifton of Harrisburg, Jerry Allen Truelove of Lepanto, Jerry Don Harsson of Marked Tree, Bobby Joe Yewll of Marked Tree, Aaron Vinson of Trumann, Bobby Joe Yewell of Marked Tree, Willie James Murray of Marked Tree and Otis Edward "Eddie" Isbell of Marked Tree.