Trumann residents recognized at St. Bernards dinner
Wednesday, October 22, 2008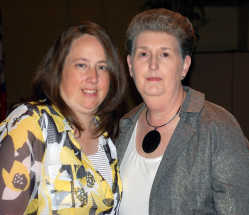 Two Trumann residents were among 65 St. Bernards employees who were honored for their years of service to St. Bernards Medical Center and St. Bernards Healthcare at a recent quarterly employee recognition dinner.
Shelia A. Blasingame and Robin R. Wright were honored for 30 and five years' service, respectively. Blasingame works in the surgical intensive care unit, and Wright works in home health.
Honorees included those whose employment anniversary dates came in the third quarter of 2008 and whose length of service fell into five-year increments.
The individuals accounted for almost 900 years of service to St. Bernards, with 25 having been on staff for five years, 12 for 10 years, four for 15, ten for 20, nine for 25, three for 30 and two for 35.
Employees represent 13 different towns and communities in five Northeast Arkansas counties.
Honorees received plaques and service pins.