Congressional Medal of Honor recipient speaks in Caraway
Thursday, November 20, 2008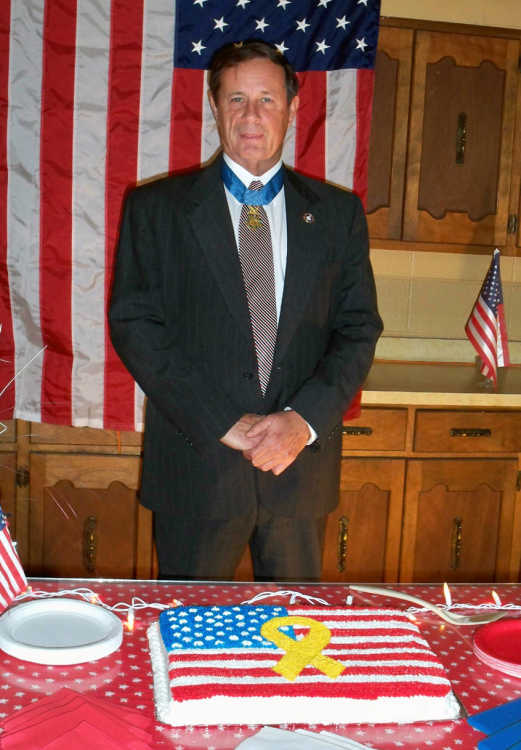 Congressional Medal of Honor recipient Nick D. Bacon was the keynote speaker at special assemblies held in his honor at Riverside Jr. High, in Caraway and BIC High Sr. High, in Monette, on Friday, Nov. 14.
Army Sergeant Bacon came from humble beginnings to achieve the highest award for valor in action against an enemy force, which can be bestowed upon an individual serving in the United States armed services.
Sgt. Bacon was born on Nov. 25, 1945 in Caraway. His parents John and Emogene (Meadows) Bacon were sharecroppers, raising cotton for a living.
"Being born on the farm had a lot of good memories for me," Bacon said. "I recall riding on a Ford tractor, sitting in my Dad's lap. We called the tractor a 'gigger' because it was so small. We had all kinds of pets, dogs, cats, hogs and chickens. My favorite dog was a mutt called 'Scooter,' and he lived to be 13 years old."
"I was surrounded by lots of relatives in a close knit community," he said. "We never got bored as there was always plenty to do, and we all worked. We never locked our doors or took the keys out of the cars, trucks or tractors."
When the farm economy got bad in 1951 John Bacon moved his family to Glendale, Ariz. to be near his parents Thurlo and Sally (Humes) Bacon.
"Dad got a job at Derrie's Ranch raising cotton and cattle," Bacon said. "I grew up chopping and picking cotton and driving a tractor. I dropped out of Peoria High School to work full time, when my father's health got bad. I later went back to earn my GED."
Bacon joined the Army at 17, and went to Fort Ord, Calif. for his basic training and then on to Worms, Germany.
"At Christmas in 1965 I learned that I was heading for Vietnam," Bacon said. "It was quite a culture shock for me as I had almost froze to death in Germany. In Vietnam we were in the jungles, where it was hot and humid. We would eat anything we could get our hands on. You get creative when you are in the jungle."
"On my first mission the helicopter I was in collided with another helicopter," He said. "Everyone was killed except me and one other soldier. We were all afraid. Everything breaks loose all at one time. The bombs were so close that they suck all the oxygen out of the air, and it was hard to breathe. We just kept on doing what we were trained to do."
"It was all about teamwork over there," He said. "I spent a lot of times praying. Sometimes I just prayed to be able to move, one step at a time. I was wounded three times. I was proud to have been raised up in a Christian home so I would know to reach out to a higher power when the going got rough. My faith gave me something to hold on to."
Sgt. Bacon went back to Vietnam for his second tour of duty in 1968-1969.
Vietnam has been classified as America's longest war spanning from 1961-1973. Sgt. Bacon told Riverside students that Aug. 26, 1968, was his longest day in that war.
"I started out that day as a squad leader with the 1st Platoon, Company B, during an operation west of Tam Ky, Vietnam," He said. "As men were wounded, I became our Platoon leader, then another Platoon, then another."
The event that led to Sgt. Bacon being nominated for the Metal of Honor was conspicuous gallantry and intrepidity in action at the risk of his life above and beyond the call of duty. Bacon was credited with organizing his men and leading the assault. Bacon took charge of each platoon and continued the fight. As a result of his extraordinary efforts, his company was able to move forward, eliminate each enemy position and rescue the men trapped to the front.
In 1969 Sgt. Bacon was presented his Congressional Medal of Honor at the White House in Washington, D. C., by President Richard Nixon.
Sgt. Bacon tried to go back to Vietnam on a third tour but was refused. He was selected by the U. S. Army for recruiting duty at Fort Hood, Texas. He went on to serve in Gussen, Germany, and training command at Fort McClellan, Alabama, before retiring in June of 1984.
Sgt. Bacon and his wife Tamara live in Rosebud. He has six children: daughters Kristy and Kim and sons William, James, Wyatt and Britt.
After retirement Sgt. Bacon was appointed to serve as Arkansas Veteran's Association Director in 1993. He served in that capacity until 2005. Governor Beebe appointed David Fletcher of Monette to fill the vacancy left by Bacon. Fletcher accompanied Sgt. Bacon to Monette and Caraway on Friday along retired Army Colonel Tom Thomas, also of Monette.
Sgt. Bacon has six siblings: sisters Jenny, Brenda, Hope and Wanda (now deceased), and brothers John and Andy.
Sgt. Bacon was featured in "Beyond Glory," a book written by Larry Smith.
Riverside teacher Danny Dunigan and BIC teacher Eddie Dunigan hailed Sgt. Bacon as a true American hero, a man of courage, a shining example, and a champion. Area veterans were recognized during the program. Bands played, singers sang, and electric guitars rang out patriotic choruses. Mayor Barry Riley proclaimed Nov. 14 as "Nick Bacon Day" in Caraway. Students were allowed to shake hands with Sgt. Bacon and other veterans following the programs, and pose for photos.
"Most people in their life times will never get to meet a Medal of Honor recipient," David Fletcher said. "This is a day that you will remember all of your life. There are only 98 of these heroes alive today, and we are fortunate to have Sgt. Bacon with us, to tell his story."
Sgt. Bacon encouraged the students to stay in school and get a good education and to go to college if possible.
"I would recommend joining the military service to anyone," Sgt. Bacon said. "It gives you a good education, a career, and a sense of pride. You have to be willing to sacrifice in this life. Freedom is not free, and it will always have to be defended. The proudest thing that I ever did was to defend my country. Being in the Army was the best thing that ever happened to me. It is all about teamwork, and Americans are all one big team."