World would be a lot worse off without Lions
Thursday, December 4, 2008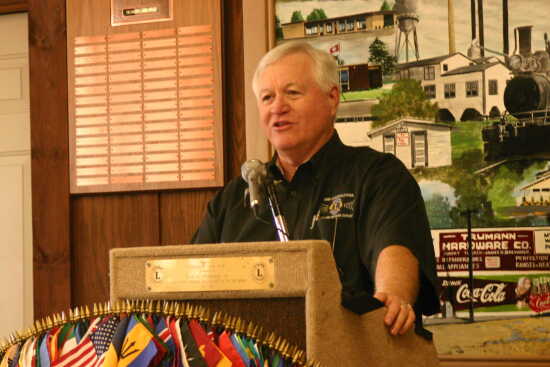 Brad Baker doesn't like to think about what the world would be like without the Lions Club.
Just this past week he saw bills come across his desk for $37,000 and one for $26,000.
And that was just for the eye surgery alone. It didn't include the doctor's fee or the hospital fee.
Bills like that would bankrupt most civic organizations.
But thanks to Mid South Lions which gets its contributions from local Lions Clubs worldwide and works with care providers to provide the service at reduced costs, the charitable organization is able to pay for eye surgery to the needy who have sight deficiencies in a four state region.
"Mid South is like an insurance policy," Baker, Mid South Lions executive director said. "But we're not like the ones who didn't pay off in Katrina. We're one that pays off. If you send a patient to us we'll try and help."
Baker, a 1971 Trumann High School graduate, spoke to the Trumann Lions Club on Nov. 26 about the mission of Mid South Lions and the importance of maintaining a healthy membership at the local level.
Like any civic organization, membership is the life's blood of Lionism, Baker said.
Although Trumann has a strong and active Lions Club, Baker said members still need to get out in the community and actively recruit more members.
"I know there are people in Trumann who want to do community service that we need to bring in to the club," Baker said.
Baker asked members to think about what Trumann would be like if it didn't have a Lions Club.
People would go without glasses and hearing aids and life changing eye operations if it weren't for the Lions Club.
"Just think about the number of things you all do, the number of people you have helped and the number of other projects that you do," Baker said. "What wouldn't get done in Trumann is it were not for the Lions Club. Trumann just wouldn't be the same without a Lions Club. So don't take your Lions Club for granted. It's not automatic that it's always going to be there. You have to work to keep it growing and work to keep it vital and work to keep it energized."
Baker said the same would be true if there were no Mid South Lions
Mid South provides all of its services at no charge to patients in Arkansas, Missouri, Mississippi and Tennessee.
The main clinic is located at Methodist Hospital Central in Memphis and two other facilities in Memphis: Le Bonheur Children's Medical Center and the Hamilton Eye Institute.
Mid South Lions also has a network of eight satellite clinics.
Baker said Mid South operates on a $1.4 million budget -- 70 percent of which comes from local Lions Clubs like Trumann.
Doctors donated over $840,000 in services to Mid South Lions.
"That's a big chunk of our whole budget," Baker said.
Because of those discounts, each eye surgery only costs Mid South Lions about $1,800, he said.
"That's a pretty good savings," Baker said. "So we're able to do a lot more because our doctors donate and our hospitals give us such a great discount."
But with the downturn in the economy, Baker said it's not a given the Lions will always be able to provide those services.
Funds are down about 25 percent this year, but the need is up by 25 percent.
Last year, Mid South saw about 500 patients or about 40 per month.
This year they are averaging about 50 patients a month, he said which is why it is so important to get more people to join and stay involved in Lions.
"if they charged us full price for those two surgeries - $37,000 for eye surgery is tough," Baker said. "I've been here 18 years. I've seen a lot of bills. But that was one of the highest ones I've every seen. And it seems like every month we're getting one or two of those.
"If you didn't have Mid South Lions -- how many barbecues would it take to pay $37,000? How many fundraisers would you have to have just for one person if you got a bill for that? There would just be a lot of people and a lot of things that we would have to say 'I'm sorry. We can't help you.' Fortunately, that doesn't happen very often."
Baker said the only option if they want to continue to provide the kind of services they are famous for is to raise more money because the second option - having no Lions Club -- is not an option.
"We're having a golden age at Mid South. We've done more services in the last couple of years than we have done in the last ten years put together," Baker said. "But we just need more gold, more money because somebody will go blind or won't hear if we don't do what we need to do. And there are too many people who depend on us."