Post Office gearing up for busy mailing season
Wednesday, December 17, 2008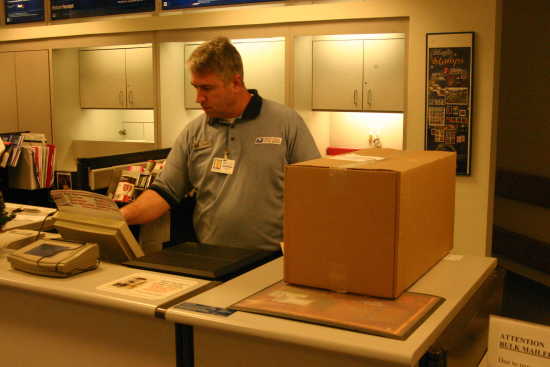 It hasn't been as busy as it normally would be this time of year at the Trumann Post Office due to the cold weather.
But the team of letter carriers and Postal workers are ready for the last minute rush as the days wind down to get Christmas packages to their destination on time.
"The weather has kind of slowed things down as far as people coming out," Trumann Postmaster Anita Brownlee said. But we're expecting all this week to be busy."
The Postal Service expects to deliver 19 billion letters and packages between Thanksgiving and Christmas.
According to the United States Postal Service, the busiest mailing day is Monday, Dec. 15 when 960 million cards and letters will be processed -- nearly double the average daily volume.
The busiest day will be Wednesday, Dec. 17.
Brownlee the last safe date to get packages in the mail in order to get them to arrive by Christmas is Monday, Dec. 22.
"Now that depends on where it's going to," Brownlee said. "I'm not so sure the 22nd will make it to California in two days. If it's going to California you might want to mail it on the 19th. But you are going to have to start mailing priority mail now."
The Postal Service provides a money-back guarantee that all Express Mail sent by Dec. 23 will be delivered by Christmas Day.
Brownlee said customers should make sure all packages are taped and securely wrapped before taking them to the Post Office.
"They tend to forget we're not UPS," Brownlee said. "UPS does their wrapping for them and they charge for that. We do it for them free and not charge for it. But it's not part of our duties."