Lepanto Christmas parade has over 50 entries
Thursday, December 18, 2008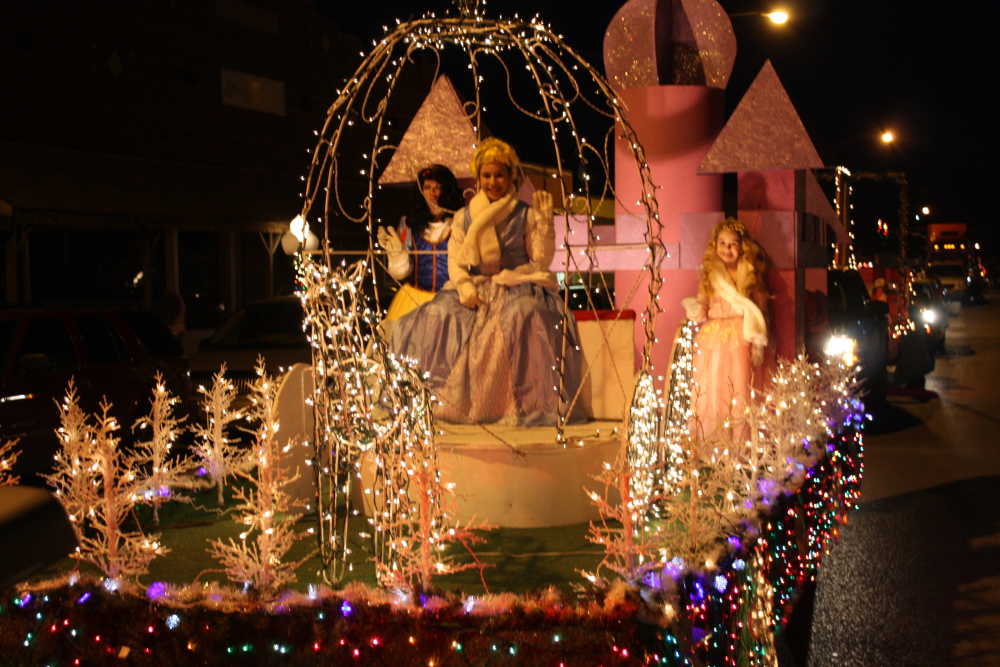 Even the cold weather couldn't dampen spirits at the 20th annual Lepanto Christmas Parade. The parade boasted over 50 entries with everyone from super heroes to princesses joining in the fun this year.
The first place float prize went to the "Magical Disney Christmas" float by Bertha and Tommy Ray of Monette. The Lamp City Red Hatters of Lepanto won the second place prize and the Noah's Ark float by the First Assembly of God Church in Osceola took home the third place prize.
The banner was carried by Kirsten Holiman and Alicia Ross.
Super heroes included several Batmans, Super Girl, Indiana Jones, Power Rangers, the Incredibles and Sandy the Rein-dog.
KAIT Channel 8 Chief Meteorologist Ryan Vaughan brought the Storm Tracker to the parade.
Other participants included the Delta Shriners;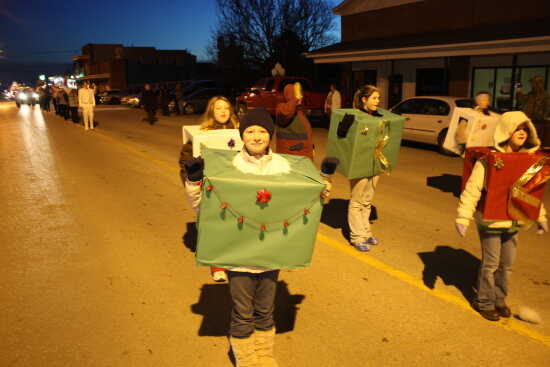 Wayne Gibson and his quad cycle; the Sonic Shake Cherry Limeaid; Darryl Turner's Taekwondo class; the EPC Marching Band; EPC Pre-K (Joyce Barnes) Let it Snow float; Jr. Cadet Girl Scouts; Autism Support Group Truck; Osceola Iron & Metal Truck (Mike Cochran Family) Lepanto/Marked Tree United Methodist Church Float with Mary & Joseph (Pastor Janice Williams); antique cars (Mike Gonzales; Keith Parks & Paul Combs; ASU Tech Center in Marked Tree; Mrs. Claus; Crittenden County Saddle Club in Marion; Sheriff Larry Mills; Tax Ass. Johnny Rye Jr.; Corp Andrew Harris; DARE Car; EPC Geography Club (Mrs. Donna Pilgrim); Miss Jr. & Miss Sr. EPC (Katie Thompson & Amber Renfro); Little Miss Osceola & Runner-up Miss AR (Alexis Slaughter); Grand Marshal Raymond Oakes; Ritter Communications; Riverside Ambulance; Poinsett County Police; Lepanto Police; Fire Department; Miss Terrapin Derby Queen; and motorcycles.
Organizers offer a special thank you to Corp Andrew Harris; Cozy Nook; Friends of the Library; Mary Slack; Red Hatters; Mary K. Williams; Cotton Eason; Portis Mercantile; Dewey Barnes; Ronnie Blain; Larry Deeds; Mark Holiman; Lepanto Police Department; Tarra Wright Holt; Jodie Kelley; Little River Bank and Tri-City Tribune.