"Gunsmoke" actor Ken Curtis had Marked Tree ties
Friday, December 26, 2008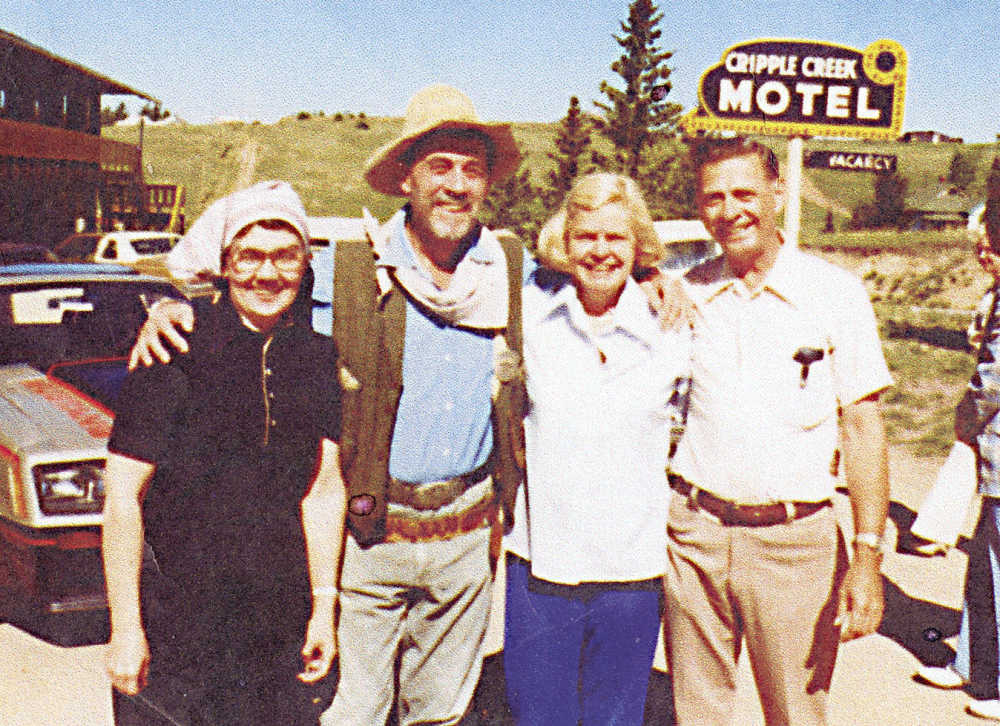 Jack and Pauline Noel were surprised to learn that one of their television heroes had Arkansas roots.
The couple was driving through Colorado on vacation in 1986 and decided to stop in Cripple Creek when they noticed that actor Ken Curtis from "Gunsmoke" was appearing that day in town.
"We pulled over at the motel and there he was," Jack said.
Curtis was serving as grand marshal during the town's famous annual Donkey Derby Days celebration and was dressed in costume as his screen alter-ego, the squinty-eyed, scraggly Festus Haggen who helped keep law and order in Dodge City with Marshal Matt Dillon on the long running tv western Gunsmoke from 1964-75.
Curtis's wife, Torrie Connelly, noticed their Arkansas license plate and they came over and introduced themselves and asked where in Arkansas they were from.
"I told her 'oh, a small town in eastern Arkansas you probably never heard of called Trumann,'" Pauline said. "He then told us that his wife was from Marked Tree. Of all the people to bump into on vacation -- and here she was from Marked Tree."
Pauline wasn't much of a movie or television watcher, but Jack was and struck up a brief conversation with the actor.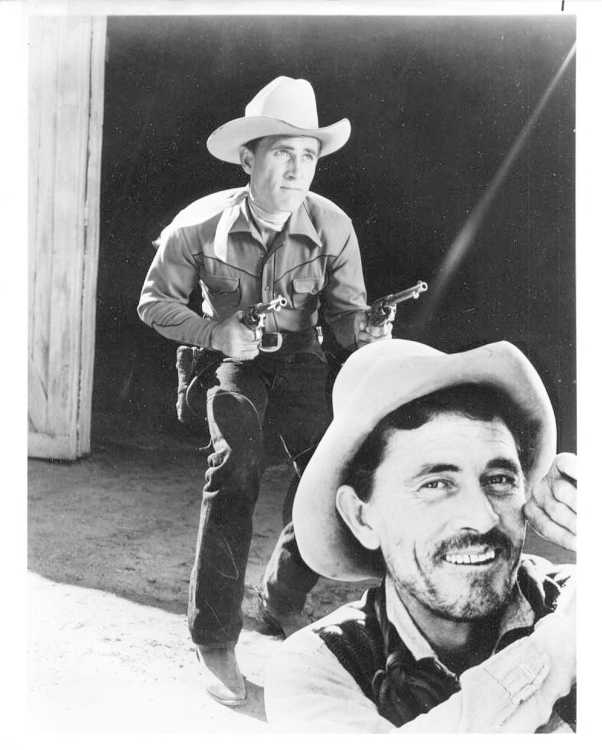 "My wife has never been a movie person," Noel said. "But my whole life has been in movies. I've worked in the movies since I was ten years old. So I've known who he was since he started in the movies."
Noel told the actor that he owned a movie theater and had seen all of his movies and was a big fan of Gunsmoke.
"We got to talking about the movie industry and went on and on and swapped stories," Jack said. "I told him I showed his pictures and we had a good conversation."
Curtis, who died in 1991, had a wide ranging career in music, television and film.
According to The Ken Curtis Appreciation Site, Curtis got his start in Hollywood in 1938 as a singer and songwriter on the radio where he was heard by composer Johnny Mercer and singer Jo Safford.
Big band leader Tommy Dorsey loved his voice and brought him to New York to take over for Frank Sinatra, who had just left the band, and changed his name from Curtis Gates to Ken Curtis.
Curtis cut short his singing career and enlisted in the infantry in 1942 and served in the Pacific until 1945.
After the war, Curtis went back to singing on the radio and eventually caught the attention of Columbia Pictures, who heard him sing "Tumbling Tumbleweeds," and cast him in the movies as a singing cowboy. Curtis appeared in eight musical westerns from 1945-46.
He later joined the popular western singing group Sons of the Pioneers as lead singer from 1949 to 1953.
Sons of the Pioneers did soundtrack work for famed director John Ford on his movies "Wagon Master" and "Rio Grande" and afterward Curtis became a stock member along with Ben Johnson, Harry Carey Jr. and Ward Bond in the Ford Production Company which made a number of classic westerns starring John Wayne.
He married Ford's daughter, Barbara, who he met when she was an assistant film editor on "Wagon Master."
Curtis first adopted the famous "dry lands" accent which he remembered from his youth in Colorado Festus in Ford's classic western "The Searchers" in 1956 and which he would later perfect as Festus.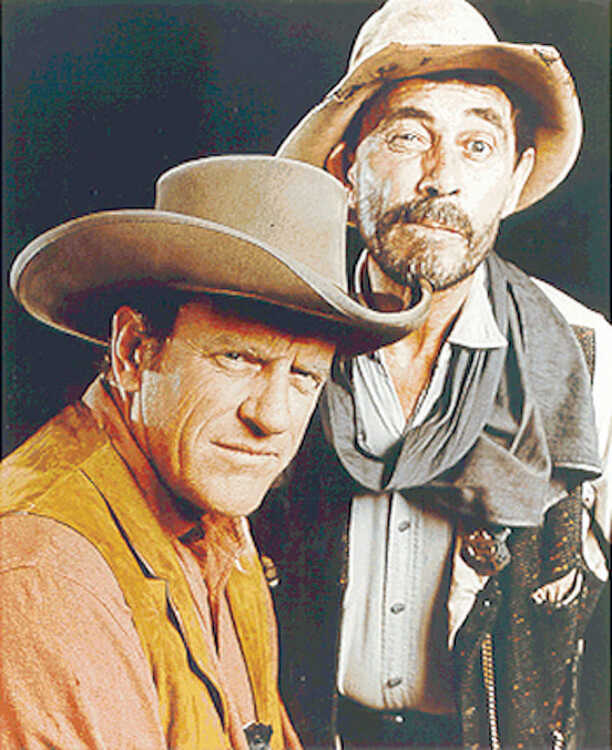 "I was to be a kind of Ralph Bellamy, but I was kidding around on the set doing the dry-land dialect. I didn't even know Mr. Ford was listening," Curtis related. "Then when it came time for me to do my lines, he said, 'How would you say that in dry-land?' I did it for him and se said, 'Play it that way.'"
In the 1950s, Curtis produced two low budget sci-fi monster movies "The Killer Shrews" and "The Giant Gila Monster." The movies cost about $100,000 to make but went on to make over $1 million at the box office and are today considered camp classics. A whole new generation was introduced to the movies when they were lampooned by the popular Comedy Central tv show "Mystery Science Theater 3000" in the early 1990s.
He also began making guest appearances on television shows such as "Have Gun, Will Travel" and "Perry Mason." In 1962, he starred in the half hour television series "Ripcord" about a sky diving service company. In that same year, Curtis made his first appearance as Festus on an episode of Gunsmoke.
It was supposed to be a one time appearance, but the character proved to be so popular that Curtis reprised the role in a later episode and eventually joined the cast full time in 1964 following the departure of Dennis Weaver's 'Chester'. Curtis would stay with the show for 11 years appearing in 239 episodes.
"Andy Taylor had Barney Fife. Matt Dillon had Festus," said Bob Thompson, a professor of popular culture at Syracuse University. "And as much as I have a soft spot for Dennis Weaver and Chester, when you think of Gunsmoke and the deputy, the one people remember the most is Festus."
"And he just came to the part so easily. He had been in movies like "Rio Grande" and "The Searchers." He brought credentials in the American western that few could bring to a show."
Curtis patterned the character after "Cedar Jack," a man he knew during his childhood in Las Anima, Colorado, which was only 100 miles from the real Dodge City, and where his father, Dan Gates, served as sheriff. Cedar Jack lived about 40 mile south of town and made a living cutting cedar fence posts. Curtis recalled that Jack would come to town and usually end up drunk and in jail.
Curtis and his wife divorced in 1964 and he went on to marry Torrie Connelly, a former rodeo secretary, in 1966.
Connelly once said she could always tell when her husband had been studying the scripts for the next day's shooting because "he would squint that eye. He didn't even know he was doing it."
Curtis traveled around the country performing as Festus in a western-themed show at fairs and rodeos when Gunsmoke wasn't in production and continued to tour years after the show was cancelled in 1975.
"He did so many of those parades and wild west shows," Thompson said. "Even though he was on one of the top rates shows for 11 years, I think he encountered more people in situations like that than he did on tv."
Cutis always looked back on his days on Gunsmoke with pride.
"I wouldn't care if they tattoo Festus all over," Curtis said in a 1978 interview. "He's been good to me.
"I really miss Gunsmoke. It was like losing my whole family. I'm really proud of Gunsmoke. We put on a good show every week -- one that families could watch together without offending anyone."
Thompson said although Gunsmoke and Curtis's work in westerns isn't well known today among the younger generation, Festus remains one of the most memorable characters in television history, especially to those over 50 who grew up watching Gunsmoke.
"It's always tempting to compare him to one of those goofball sheriffs on The Dukes of Hazzard," Thompson said. "But if he was the sort of not terribly bright deputy, he did it with so much more sophistication. He was a really, really interesting character."
Curtis occasionally returned to acting in the late 1970s and 80s appearing in "How the West Was Won" with Arness and episodes of "Airwolf" (1986), "In the Heat of the Night" (1990) and "Conagher" with Sam Elliott in 1991.
Noel said he enjoyed meeting Curtis and is still a fan of Gunsmoke.
"I loved it," Jack said. "I still watch it when it comes on."
"He was such a nice man. He was just a country boy and was the kind of fellow I would want to be associated with."