Poinsett County begins clean up after crippling ice storm
Thursday, February 5, 2009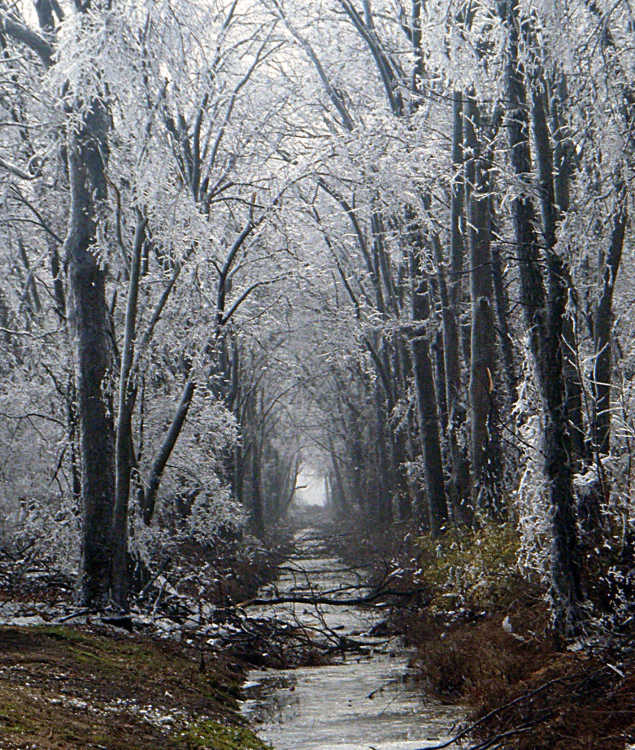 The sound of chainsaws and generators filled the air last week throughout the county and on into this week as residents began cleaning up from last week's ice storm. The storm began Tuesday and before it was all said and done, there were some 600,000 customers without power before the storm moved from the state to equally devastate areas of Missouri, Kentucky and Tennessee.
While the cities of Marked Tree, Lepanto and Tyronza experienced outages lasting into the weekend, for the most part, the Tri-City area was spared the brunt of the storm to the north of Jonesboro. Also in the rural areas of the county, while there is no exact figure according to Poinsett County Judge Charles Nix, there are still many pockets in the county which may not have power for at least another week.
"The areas which are served by Entergy like Harrisburg and others are about 90% up." said Nix.
According to a statement to Arkansas residents found on the Entergy website, the people of Poinsett County are in much better shape then many in other areas of he state. The statement read:
"Entergy expects to restore service to 80% of Arkansas customers by Feb.7. Service restoration to remaining customers will take longer due to the severe damage and remote locations."
"There are going to be areas that certainly will be longer," said Entergy spokesman James Thompson. "You have some houses in rural areas that are always tougher to get on and some homes that have damage."
A look at the Entergy outage map of Poinsett County shows that the eastern part of the county is still the hardest hit with regard to their customers.
Thompson said the company has about 4,000 lineman, tree trimmers and field support staff including employees from Mississippi, Oklahoma, Missouri, Georgia, Florida, North Carolina, Louisiana and Texas working to restore power to the affected areas.
About half of the company's 111,000 customers still remain without power, he said.
Thompson said the damage was widespread with thousands of broken utility poles on the ground along with the wires and transformers.
"We still have 49,000 customers without power," Thompson said. "But we're starting to get in to some of those remote areas."
For customers of Craighead County Electric Cooperative, the story is quite a bit different. Officials with the company said about 35 percent of its customers were still without power.
As of Monday seven of the cooperative's 10 substations had been energized, spokesman Monty Williams said.
Craighead Electric Cooperative serves about 28,000 customers in eight counties in northeast Arkansas including the Tri-City area
"The more rural areas are mostly serviced by Craighead Electric," continued Nix. "and I know they still have several areas out. They're slowly making some progress, but they're having to deal with a lot of downed power lines and trees and things like that."
Nix admitted that he had no other information about when the remainder of the county might expect to be up and running.
"I do know that we're in a lot better shape than the counties above us," he said referring to the heavily damaged areas around Rector, Walnut Ridge, Piggott, Corning and other cities in northeastern areas of the state.
The Judge said one of the pressing issues for county residents is the removal of limbs and other debris.
"We have a site located at the land fill where people can bring limbs and brush." said Nix. "Plus I know cities are working on sites where people can bring limbs and other debris."
Nix also said a team with the Federal Emergency Management Agency (FEMA) will be coming to the county Thursday. They will make a tour the area and make a preliminary assessment of the federal disaster relief residents of Poinsett County can expect with President Obama already declaring the state a disaster area.
As a final word, Nix asked the people of Poinsett County to be patient.
"I know it's frustrating for someone to see the power suddenly go up down the road, while they still don't have power." he concluded. "I know it's aggravating to see that, but people just need to try to be patient. I'm sure the workers are doing all they can do. I just hope we don't have another one soon."
That last sentiment will, no doubt, be voiced over the next few days and weeks as the Tri-City area, Poinsett County, Northeast Arkansas and the rest of the areas affected by Ice Storm 2009 get their lives back in order.