Owls rally to defeat Warriors in state quarterfinal
Thursday, May 7, 2009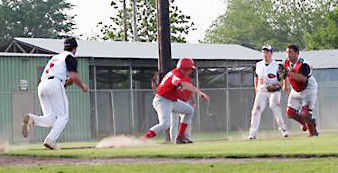 Everything looked as if it was going to work out to EPC's advantage as they got to the 6 2/3 innings into their quarterfinal game with Abundant Life Monday in the 2A State Tournament in Pine Bluff. The score was 1-1 and while pitcher Chris Maddox had put the first batter on first with a walk, he had struck out the next two batters and was just one out away from the Warriors (25-7) sending their 2-3-4 batters to the plate.
Unfortunately, the Owls decided it was time for a rally and proceeded to reel off five straight hits, walk another on base, then get a sixth hit to score five runs and take a 6-1 lead.
"When you talk about your tables turning," said coach Brian Weathers later of the game which was scheduled for Saturday, but postponed due to rain. "We were one out away from coming in with out 2-3-4 batters leading off. But the tide just turned there. You get them with two outs thinking you're going to come in and have a chance to put it away and they rally on you."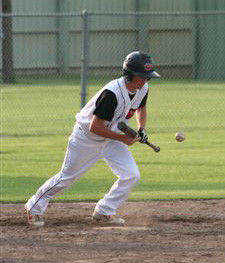 Abundant Life took the lead 1-0 in the second inning and held the advantage until Lando Bass scored Maddox with a single in the fifth to tie the game at 1-1. Then everything looked fine until the Owl rally.
"For 6 2/3 it was evenly matched," continued Weathers. "Chris did a great job and it was a great defensive game on both parts. They had one error and we didn't have any. (Tyler) Permenter ran down two balls in left field and (Austin) Price made a stabbing catch in right field. It was a well played defensive game. It was what you expected in the quarterfinal of the state tournament."
D.J. Brister knocked in Carson Tyler in the bottom of the seventh for the final run of the game as EPC tried to start a rally of their own, but it was not to be and the game ended with the Owls on top 6-2.
Maddox finished the game with nine Ks while giving up three walks and eight hits. He was also 1 for 3 at the plate as was Matt Powell and Randall Holt while Tyler finished 1 for 2.
EPC got to the quarterfinal game by defeating Benton Harmony Grove Friday.
EPC 12
Benton Harmony Grove 2
EPC scored seven runs in the third inning and went on to run rule Benton Harmony Grove 12-2 Friday afternoon in the first round of the state tournament.
Carter and Brister lashed back to back two-run doubles to highlight the Warrior's seven run third inning outburst, giving EPC an 8-0 lead. Tyler and Powell also contributed RBI singles in the inning.
EPC got a run in the first inning when Maddox walked, stole second and advanced to third on a wild pitch. Tyler brought Maddox home with a sacrifice fly, giving the Warriors a 1-0 lead.
Benton Harmony Grove got on the board in the fourth inning, scoring a pair of runs to cut the EPC lead to 8-2.
The Warriors came right back in the bottom of the fourth with two runs of their own. Tyler led the inning off with a double and scored on an RBI groundout by Bass. Brister laced an RBI single, scoring Carter, who had reached base with a single, giving EPC a 10-2 lead.
Maddox ripped a two-run double in the bottom of the fifth to provide the Warriors with two more runs, pushing the lead to 12-2 and ending the game.
Tyler (7-1) pitched all five innings for EPC, surrendering two runs while allowing three hits. The right hander struck out nine while issuing only one walk.
Tyler also led the Warriors at the plate going 3 for 3, including a double, two runs scored and more four runs driven in. Carter completed the day 2 for3 with a double and a pair of RBIs while Brister doubled and had three RBIs. Powell had an RBI single and scored twice, Maddox singled and scored three runs while Bass added an RBI.
With regard to the season, Weathers was proud of his team and the way they performed during the season.
"For the first time since I've been here we were a good offensive team," concluded Weathers. "I'm primarily a pitching and defensive coach, I coach that way. But our hitting really came through. Brister and (Chris)Carter had career seasons with their batting. Bass, Maddox and Tyler had outstanding seasons as expected. The seven games we lost were to quality opponents. We played in four tournaments and won three of them. And then we just came so close in the state tournament also. I'm really proud of the boy's effort. I feel sorry for the seniors. We're losing eight seniors and seven of them are starters. They and the rest of the team are good players and good people. I wish we had gone farther, but like I said, it was just a great year."