Indians march into 2A state semifinal game
Thursday, May 7, 2009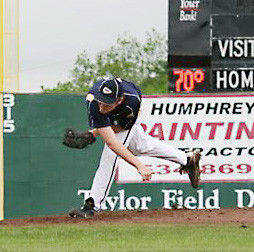 Marked Tree's Richie Tate got the better of Hackett's Logan Emery in a classic pitching duel to lead the Indians to a 3-0 shutout of the Hornets in the first round of the 2A State Baseball Tournament Friday afternoon at White Hall High School.
Tate was also the hero at the plate, driving home all three runs with a seventh inning single.
Both hurlers went pitch for pitch the first six innings, throwing shutout baseball, before Marked Tree broke through in the top of the seventh with their game winning rally. The inning began harmlessly enough for Hackett's Emery when he struck out the first two Indians, but walked ninth place hitter Jagger McCrary on a 3-2 pitch. Lead-off hitter Michael Gray used his blazing speed to beat out an infield single, putting runners at first and second.
Emery issued another base-on-balls to Gunner Pitts, setting up Tate's heroics. The junior lofted a bloop single that fell into no-man's-land between shortstop and left centerfield, scoring all three runners to give the Indians a 3-0 lead.
Tate retired Hackett in order in the bottom of the seventh to complete the shutout and propel the Indians into Saturday's quarterfinals against Dierks.
Tate allowed only two hits while striking out 12 and issuing two walks.
Tate, McCrary, Pitts, Gray, Will Johnson and Colby Tacker all had singles for the Indians.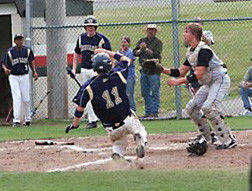 "This was a game where you hated to see anyone lose, especially with a kid that pitched as gutsy a performance as their kid did," said Indian coach Matt Wright. "He has to be commended for the job that he did as does their whole team. I don't know when the last time was that a Marked Tree team won a game in the state tournament. It's been over 20 years ago. What these kids have accomplished has been great. We started the year 3-6, so this team could have hung their heads and quit, but they kept battling, and now we're in the quarterfinals of the state tournament. I am so proud of them. I thought Richie pitched an outstanding game, and I thought the rest of our kids competed extremely hard. I am just so very proud of them."
Marked Tree 7
Dierks 2
Marked Tree continued their strong pitching in the quarterfinals behind the right arm of T. J. Laster, who allowed no earned runs in a 7-2 victory over the Dierks Outlaws Saturday afternoon at Taylor Field.
Laster went the distance, giving up just two unearned runs while scattering only three hits and earning nine strikeouts while walking eight.
The Indians struck early, scoring two runs in the first inning. Gray led off the Indian first with a walk and stole second base. Pitts followed with a bunt single, moving Gray to third. Pitts promptly stole second, and both runners alertly scampered home on a sacrifice bunt off the bat of Tate.
The Indians exploded for five runs in the bottom of the second. Taylor Wages started the rally with a double then Laster reached first on an error, putting runners at first and third. After a strikeout, Gray laid down a perfect squeeze bunt, scoring Wages from third to give Marked Tree a 3-0 lead. Tate followed with a two-run bloop single into short right field to push the lead to 5-0. Josh Dabney then drove in two more runs with an opposite field single, capping off the five run inning and giving Marked Tree a 7-0 lead.
Dierks tried to rally late, scoring single runs in both the fifth and sixth innings, as Laster ran into control problems, but the Outlaws left the bases loaded in both innings and the Indians held on for the 7-2 win.
Tate ended the day with four more RBIs, giving the junior seven in the first two games of the state tournament. Wages finished the afternoon with a pair of hits while Will Johnson also picked up a single.
"Marked Tree has only been here once in high school history, and this is my last year to coach," said Wright who accepted the Marked Tree principal's job recently. "This has just been a treat to coach these kids. After the start we had, and now we are 21-10 today. If you would have told me three weeks ago that we would be in the final four today, I would have given you my wife, house, truck and dogs. These kids are so excited. I am tickled pink. I can't believe we're here."
The Indians will play Thursday, May 7 at 12 p.m. against Woodlawn for the chance to make a trip to the state finals in Fayetteville Saturday.