Cedar park honored by Intel in D.C. for math excellence
Thursday, September 24, 2009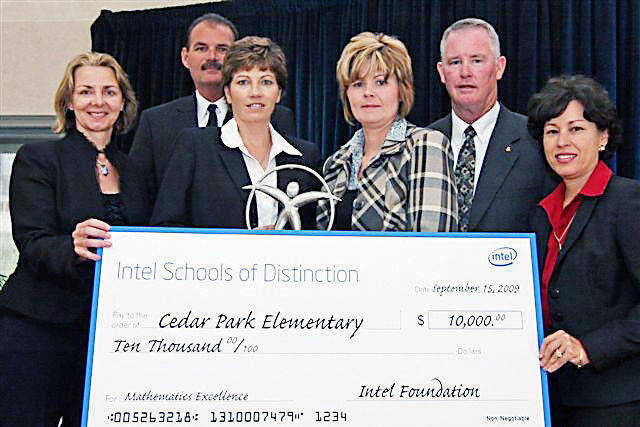 Educators from Cedar Park Elementary School were given the red carpet treatment last week in the nation's capitol during a celebration to honor the country's top schools for excellence in math and science.
Cedar Park Elementary and five other U.S. schools were named 2009 Schools of Distinction by Intel Corporation for mathematics excellence at an awards reception held in Washington, D.C. earlier this month.
The school was notified last April that it was one of 18 schools around the country that had been named a finalist in math and in May learned that the school had been picked as the top elementary school in the math category.
The 18 finalists were chosen from both public and private schools in rural, urban and suburban neighborhoods.
"We got treated like royalty," said Truman School District superintendent Joe Waleszonia. "They picked us up at the airport. They wined us and dined us. We were like celebrities in Washington, D.C."
Intel sponsors the Schools of Distinction Awards to honor schools for implementing innovative math and science programs and serving as models for other schools.
Cedar Park implemented the Everyday Math program which teaches math concepts using real world problems instead of having students complete standard math problems on the blackboard or in textbooks.
Students learn the mathematical concepts but are asked to explain their problem solving methods and share those strategies with other students in the class.
Teachers also share winning strategies with other teachers.
Student proficiency has improved 91 percent as a result.
Cedar Park Elementary was joined by Urban Assembly for Applied Math and Science from Bronx, New York which was the top middle school, and Lynn English High School in Lynn, Mass.
Illinois Mathematics & Science Academy of Aurora, Ill., Oakcliff Elementaryt Scholl of Doraville, Ga. And Palm Desert Middle School of Palm Desert, Calif. were the winners in the science category.
"We were among the cream of the crop as far as math and science," said Cedar Park principal Cynthia Wright. "We didn't realize what we had done until we got there and we saw the other schools that were there and realized what a big deal it was.
"As we looked around and listened to the other schools, out of those six we were certainly the smallest. And the best I can figure out only us and one other school was a regular public school. The others were academies or charter schools. One was led by a Nobel Prize winner. So it was a big deal for us."
Each winning school received $2,500 from the Intel Foundation for being named finalists in April and an additional $10,000 from the Intel Foundation plus an award package valued at $200,000 that includes curriculum materials, professional development resources and hardware and software prizes and services from sponsors.
Wright said the school walked away with Smart Boards, digital cameras and several software packages that will be very helpful in the classroom.
"Two companies gave us actual tangible things and the others gave us services such as software for a year or a license for a year," Wright said.
Intel spokesman Bill Mackenzie said Trumann has a lot to be proud of.
"As a company committed to making a difference in education, particularly in math and science, Intel is incredibly pleased with what Cedar Park has accomplished as a school," MacKenzie said. "Over 700 K-12 schools in the U.S. applied for a 2009 Schools of Distinction Award and just 18 made it to the level of the finalists. Of those, just six were named winners and invited to Washington, D.C. to celebrate."
MacKenzie said it is essential for young people to become skilled in math and science if the United States is to remain competitive in the global marketplace.
"Cedar park's faculty, staff and students are doing their part to make that happen," MacKenzie said.
Waleszonia said the district is planning to hold a community-wide celebration on Oct. 26 to recognize the accomplishment.
"It's amazing," Waleszonia said."They know where Trumann, Arkansas is right now.
"I don't want us to continue to pat ourselves on the back, but at the same time, we're doing a good job. We have weaknesses. We have areas we can work on. And that's what we intend to do. But we've got some good things going on in our schools."