Blagg named TPD officer of the year
Thursday, December 24, 2009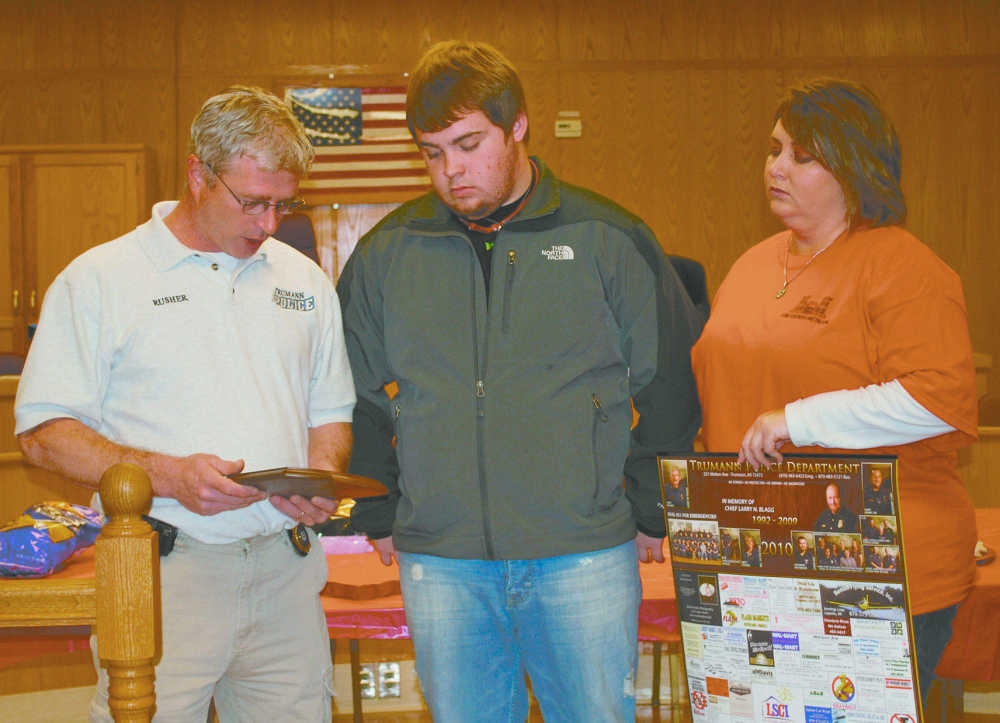 Larry Blagg was tragically taken from his family and his brothers at the Trumann Police Department in January. But those brothers thought it only appropriate to honor his family Monday night by unanimously naming Blagg as the TPD's Officer of the Year.
Trumann police had a special ceremony Monday evening at the police complex where Cody Blagg accepted the award posthumously for his father. Tony Rusher, who was named chief in March after Larry's death during the January ice storm, emotionally presented a plaque to Larry's only son, Cody, and his widow, Tammy Blagg.
"There was no way we could give this award to Larry so we had to give it to his only son, Cody," Rusher said. "We at the Trumann Police Department wanted to let Cody and Tammy, and the rest of Larry's family, know how much we care. We are a small department and are very close. Many of us have worked over 10 years together. This just means a lot to let them know. We do not want them to think we have forgotten Larry."
Tammy and Cody were both very appreciative of the police department's honor.
"It makes me proud to know his memory is living on," Tammy said. "Larry did so much for this community. He totally deserves this award."
Cody, who recently completed his first semester at Arkansas State University, is proud of his father. "It makes me proud to know that my father made such an impact on this community. I am just proud."
Tammy is still very appreciative of the out pouring of support from the Trumann community. "We appreciate everything everyone has done," she said. "People still approach us and say they are praying. They still ask if they can do anything for us."
But for Larry's wife and son, it is still a time for grief.
"It is just a healing process for all of us," she said.