Arkansas Delta Music Trail: Sounds from the Soil and Soul unveiled in Tyronza
Monday, January 4, 2010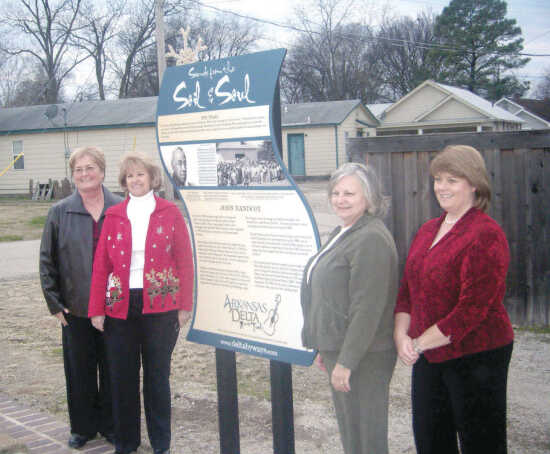 An interpretive marker honoring songwriter John L. Handcox (1904-1992) was unveiled Friday at the Southern Tenant Farmers Museum, an Arkansas State University Heritage Site, located at 117 Main Street in Tyronza.
The marker is part of the new Arkansas Delta Music Trail: Sounds from the Soil & Soul announced by Arkansas Delta Byways Regional Tourism Association to highlight the rich and diverse music heritage of the 15-county Arkansas Delta region.
From blues and gospel to jazz, country and rock n' roll, Arkansas Delta musicians have made their mark on American music in significant and continuing ways. The Arkansas Delta Music Trail connects sites and stories related to the music heritage of the region, following Arkansas' Great River Road and Crowley's Ridge Parkway National Scenic Byways. Travelers can listen live to the daily King Biscuit Time radio broadcast in downtown Helena at the Delta Cultural Center, hear Louis Jordan's alto sax playing at the Central Delta Depot in downtown Brinkley, listen to "the voice of Southeast Arkansas" at KVSA in McGehee, and visit Twist, where B.B. King ran back into a burning to juke joint to save his beloved "Lucille," the fabled guitar everyone now knows by name.
The John L. Handcox marker recognizes his music contributions as singer, songwriter and poet for the Southern Tenant Farmers Union, establishing him as the voice for poor cotton farmers during the Great Depression. Having lived the hard life of a sharecropper, Handcox' work documents the issues that drove to unionization of tenant farmers in the South and Southwest during the 1930s.
Due to the power of his words, his songs and poems continue to touch Americans concerned with worker justice. His "Roll the Union On" has been called a labor classic and was heard as recently as 2003 being sung by striking workers. People such as Pete Seeger and Woody Guthrie included his work in their songbook, "Hard Hitting Songs for Hard Hit People."
After the unveiling on the lawn, entertainment was provided by area musicians Don McGregor and Steve Lockwood, featuring songs written by Handcox. The museum also hosted its Christmas Open House.
In addition to visitor sites along the trail, a 14-track CD is available featuring the sounds of the Arkansas Delta's rich music heritage. Showcasing Arkansas talents Johnny Cash, Albert King, Sonny Boy Williamson, Charlie Rich, Sister Rosetta Tharpe, Robert Jr. Lockwood, Levon Helm (The Band), Pinetop Perkins, Al Green, Johnnie Taylor, Billy Lee Riley, William Warfield, Junior Parker and Louis Jordan, the CD represents both the talent and the transformation of music in the Arkansas Delta spanning more than half a century. A 20-minute DVD accompanies the CD and features interviews with Sonny Burgess, Willie Cobbs, Wayne Jackson and "Sunshine" Sonny Payne. The CD/DVD package is available from Arkansas Delta Byways at www.deltabyways.com, by calling 870-972-2803, or at visitor sites along the trail.
The trail, following Arkansas' Great River Road and Crowley's Ridge Parkway National Scenic Byways, traverses 15 counties in eastern Arkansas including Clay, Greene, Craighead, Mississippi, Poinsett, Cross, Crittenden, St. Francis, Lee, Monroe, Phillips, Arkansas, Desha, Drew and Chicot. The Southern Tenant Farmers Museum in Tyronza, Central Delta Depot in Brinkley and Helena's Delta Cultural Center serve as key visitor and interpretive sites along the trail.
The Arkansas Delta Music Trail: Sounds from the Soil & Soul is a collaborative effort of Arkansas Delta Byways, Main Street Arkansas, the National Trust for Historic Preservation's Rural Heritage Development Initiative, and the National Scenic Byways Program. For more information, visit DeltaByways.com or call 870-816-0774.