Fogleman talks Supreme Court, WM3 at Lions
Thursday, January 28, 2010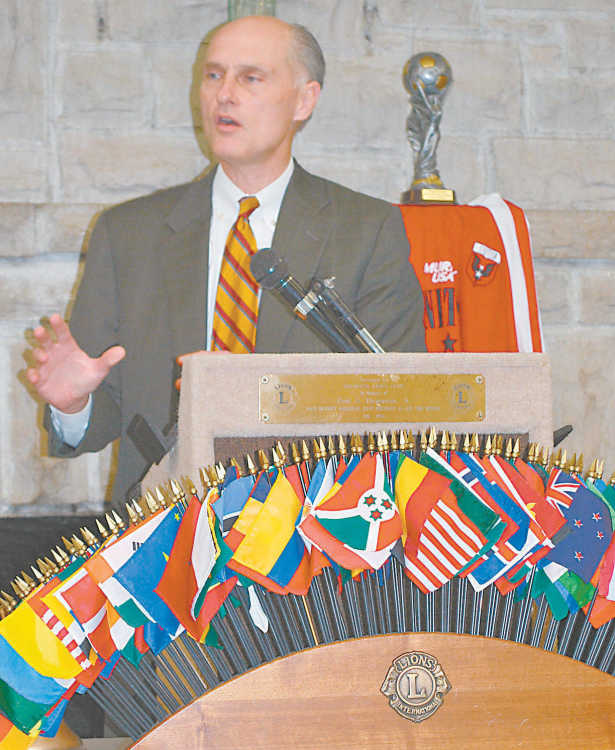 Second Judicial District Circuit Judge John Fogleman was the guest speaker at the Trumann Lions Club Eednesday, Jan. 20 and discussed an array of topics including the Supreme Court and the West Memphis Three case.
Fogleman is a candidate for a judgeship on the state Supreme Court. He noted that over the next seven years, the court will dramatically change.
"Every justice that is currently on the court will be gone with the exception of one," Fogleman said. "And it is because of age. The law in Arkansas states that once a judge turns 70 and they run for judge, they will forfeit their retirement."
Fogleman said two slots on the bench will be open for election in May.
"We really need experience on the court," he said. "For lawyers to be able to do their jobs, they need to have consistent judgments from the Supreme Court. It is extremely important for the Supreme Court to follow precedent."
The circuit judge said some cases the Supreme Court was involved with that affect people from Arkansas include the Lake View decision and decisions with what officers can and can not do.
"We as judges and lawyers take our oath to follow the law," Fogleman said. "We need to have clear guidance."
He said that at 54, he is the oldest candidate running for Supreme Court.
Fogleman also discuss the 'West Memphis Three' murder trial. Fogleman was a deputy prosecuting attorney during this case. Last week, Judge David Burnett denied new trials for Jessie Misskelley and Jason Baldwin. The two claimed they were not adequately represented at trial.
"They found a hair that belonged to a step-father of one of the boys and another hair belonging to a friend of that step-father," Fogleman said. "But, what is really unusual about finding a hair from a step-father on his step-son? I would think that would be something expected.
"And you know, for 15 years the defense said it was step-father 'A'. And the hair is from step-father 'B'. A New York City public relations firm is being paid to do all this work. Hairs are meaningless. A hair from a step-dad on a step-son shouldn't be unexpected."
Fogleman did say that in his time as a deputy prosecutor, he did have cases that were more clear cut.
"This was a difficult case," Fogleman said. "But it was investigated thoroughly. Many people were looked at in this case. But I will say, every piece of evidence we had pointed to those three."