Cook speaks to Trumann Lions
Wednesday, March 10, 2010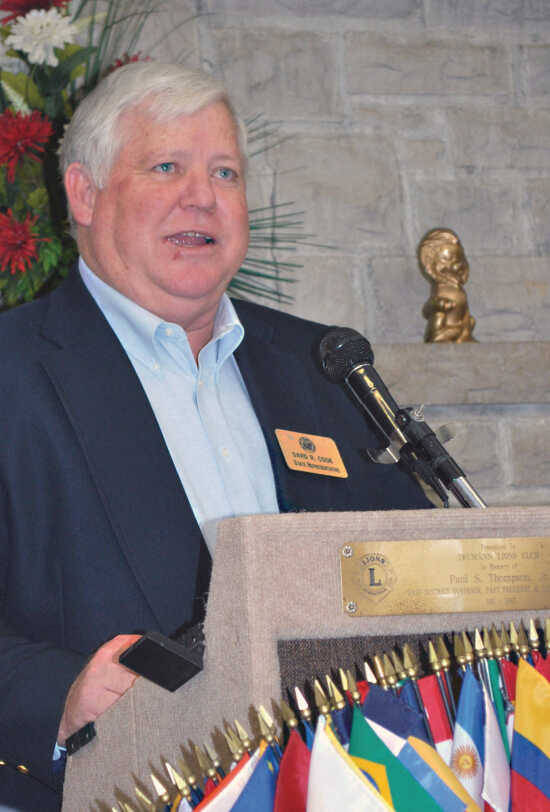 A term-limited state representative running for national office was the guest speaker at Wednesday's Trumann Lions Club meeting.
David Cook is currently state representative for District 80, which serves his home area of Willford. Cook is term-limited and is seeking the Democratic nomination to serve as congressman for the 1st Congressional District. Current Rep. Marion Berry (D-Gillett) announced he would not seek re-election.
Cook mainly discussed the recent fiscal session of the General Assembly.
"This was the first ever fiscal session," Cook said. "And it worked out to be a good thing considering our current economic situation. We finished up in 18 days because we didn't have a whole lot of money to work with. We worked on the Revenue Stabilization Act which will allow the state to operate in the black by next year."
Cook said the legislature also worked on Medicaid and the lottery scholarships. He said the scholarship reward amount was set at $2,500 for those attending a two year institution and $5,000 for those attending a four-year instituation.
"I was for the lottery to begin with," Cook said. "It helps the students in our state. Education and economic development go hand in hand and these scholarships will help students get an education and obtain high-paying jobs in our state."
Redistricting after this year's census will also be discussed. "The governor, secretary of state and attorney general will do this when the time comes," he said. "It will be good to keep the county as a whole with these state positions."
He also talked about working on the $651 million school facilities package. Approximately $10 million in these funds were obtained by the Trumann School District and helped to build the new high school.
Cook is originally from Lee County.
"I know what it is like to be cold and hungry and work for everything you have got," he said. "I was the first in my family to get a high school degree and I went on to get three college degrees. And I became a legislator. If you get my to Washington, Dc., I'll do what is right for the people of the first district."