Shower of Fortune honors Webb
Wednesday, March 31, 2010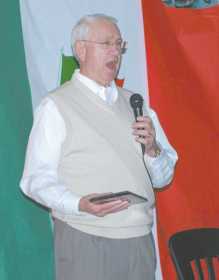 Mamma Mia!
That was the theme of the night for the Trumann Rotary Club at their annual Shower of Fortune.
All of the money generated from Monday nights event will go toward scholarship for students at Trumann High School. Other service projects the club participates in include the Healthy Smiles Project at Cedar Park Elementary; a book distribution to low-income children; a dictionary project where every third grader at CPE receives a dictionary and the Trumann Health Fair.
Susan Greenwell, club president,said, "We are a small club but we do an a lot."
The local club also participates in national projects such as the Rotary Foundation and Polio Plus. Greenwell said the international club has narrowed polio to four countries. "Rotary works to improve lives and make the world a better place," she said. "Rotarians make a difference."
While Greenwell serves as president, Regina Stacy is president-elect. Justin Smith serves as secretary and Lisa Young is treasurer. Karleen Sheets and Zac Inboden are both past-presidents.
Several awards and certificates of honor were handed out at the event.
Scott Richards was named outstanding new member. He is also the incoming vice president. Regina Stacy was named Rotarian of the Year.
Janice Griffin was honored as a friend of Rotary.
Kelley "K.W." Webb was honored by the club. A former educator and attorney, Webb is now living in Jonesboro but was a founding member of the Trumann Club.