Paul Eugene Johnson
Thursday, November 4, 2010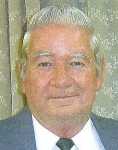 TRUMANN - Mr. Paul Eugene Johnson, 66, of Trumann died Thursday, October 28, 2010, at the family residence. He was born in Trumann and had lived most of his lifetime in Trumann. He was a retired employee of Roach Manufacturing Corp. and was a member of the Lake City Church of Christ. Mr. Johnson was preceded in death by one sister, Lucille McCain, three grandchildren, Calvin and Courtney Johnson and Nicholas Alliston, and his parents, Homer W. and Gertrude Carr Johnson, Sr.
Survivors include his wife, Alice Johnson of the home; three sons, Larry Johnson of Jonesboro, Randy Johnson of Bono, and Michael Johnson of Trumann; two daughters, Connie Alliston of Jonesboro and Jennifer McConnico of Trumann; four brothers, Jimmy Johnson of Jonesboro, Homer Johnson, Jr., Henry Johnson, and Joe Johnson all of Trumann; two sisters, Charlene Johnson and Vonda Ealey both of Bay; and five grandchildren, Zachary A. Johnson, Amber Johnson, Seth Johnson, Patrick Alliston, and Zachary Ryan Johnson.
Graveside service will be Saturday afternoon at 1:30 p.m. in Tyronza Cemetery with Barry Bell officiating. Burial will be under the direction of Thompson Funeral Home in Trumann, Ark. Active pallbearers will be Kenny Woods, Ricky Woods, Justin Elliott, Wayne Elliott, Bruce McGuire, and Robert Tice.
Honorary pallbearers will be Larry Johnson, Randy Johnson, Michael Johnson, and Nathan Alliston.
Visitation will be Friday evening from 5:00 p.m. until 7:00 p.m. at Thompson Funeral Home.
Online guest book can be signed at www.thompsonfuneralhome.net