Lawanda Jean "Bootsie" Murphy
Thursday, November 4, 2010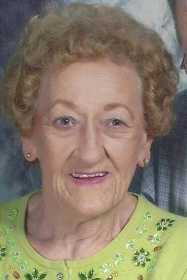 TRUMANN - Mrs. Lawanda Jean "Bootsie" Murphy, 76, of Trumann died Friday, October 29, 2010 at NEA Baptist Hospital in Jonesboro. She was born and a lifetime resident of Trumann, a housewife and a member of the First Baptist Church in Trumann. Mrs. Murphy was preceded in death by her first husband, Cletis Pankey and one son, David Pankey.
Survivors include her husband, C.M. Murphy of the home; one son, Granville Pankey of Prairie Grove, Ark., four sisters, Virginia Evans and Nancy England both of Trumann; Jerri Sue Qualls of Rockford, Ill, and Judy Dunman of Lunsford, Ark.; three brothers, Harold "Tobe" Slinkard of Hogeye, Ark., Bob Slinkard of Trumann and Howard Slinkard of Rogers, Ark.; three grandchildren, Jeremy, Candace and Jordan and two great-grandchildren, Hunter and Gunnar.
Funeral service will be Monday morning at 10:00 a.m. in the chapel of Thompson Funeral Home with Rev. Gary Barker and Rev. Michael Jernigan officiating. Burial will follow in Jonesboro Memorial Park Cemetery in Jonesboro, Ark.
Pallbearers will be nephews.
Visitation will be Sunday from 4:00 p.m. until 6:00 p.m.at Thompson Funeral Home in Trumann.
An online register book can be signed at www.thompsonfuneralhome.net