Jerald "Lynn" Vinson
Thursday, November 4, 2010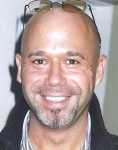 JONESBORO -- Mr. Jerald "Lynn" Vinson, 40, of Jonesboro, died Friday, October 22, 2010 in Bloomfield, MI. He was born in Trumann and had lived most of his lifetime in Trumann and Jonesboro. Mr. Vinson was employed by Olive Garden in Jonesboro and was of the Protestant belief. Lynn was a loving person who was able to find the good in everyone. Mr. Vinson was preceded in death by his grandparents, Talmage and Viva Long and Rassie "Red" and Juanita Vinson and his uncle, Terry Long.
He leaves behind his parents, Jerry and Barbara Vinson of Jonesboro; one sister, Coleen Lamb and her husband Jason of Jonesboro; one niece, Meghan Qualls of Jonesboro; one nephew, McKay Qualls of Jonesboro; and a host of loving uncles, aunts, cousins, and many friends.
Funeral service will be Wednesday afternoon at 1:30 p.m. in the chapel of Thompson Funeral Home in Trumann with Rev. Larry Tribble, Rev. Ricky Vinson, and Wayne Vinson officiating. Burial will follow in Jonesboro Memorial Park Cemetery in Jonesboro, Ark.
Active pallbearers will be Kevin Long, Brent Long, Glenn Vinson, Larry D. Vinson, Robert Vinson, and McKay Qualls.
Honorary pallbearers will be Larry Vinson, Gary D. Barker, and Chris Luna Fortier.
Visitation will be Tuesday evening from 5:00 p.m. until 7:00 p.m. at Thompson Funeral Home. An online register book can be signed at www.thompsonfuneralhome.net