ASU Prize Patrol Surprises Trumann Student
Thursday, December 30, 2010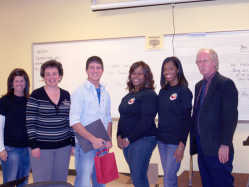 Trumann High School student Anthony Rusher received a surprise Wednesday afternoon when the ASU Prize Patrol burst into his classroom to award him a scholarship.
Rusher was awarded Arkansas State University's ASTATE Scholar, ASU's highest and most prestigious scholarship.
Charles Kirksey, Counselor for Trumann High School, said that Rusher "has impeccable character. He's upbeat, smart, laid back. Everything you want in a student. He's one of the best students Trumann has to offer."
The Prize Patrol consisted of representatives from the Honors College and the Office of Admissions, including Rebecca Oliver, Director of the Honors College. According to Oliver, to be eligible for the ASTATE Scholar, students must have a score of 30 or higher on the ACT and a GPA of 3.5 or higher. Students send in a student resume which lists service, activities, and awards, as well as two letters of recommendation.
"These scholarships are competitive," Oliver said. "There will be 40 ASTATE Scholars in the upcoming Fall 2011 freshman class. That will be the top 2% of the freshman class."
The scholarship endows each recipient with a $14,000 academic scholarship, including a double occupancy room--valued at $3,720--for on-campus housing. "It's almost a full ride," Oliver said.
"That's a load off for mom and dad," Kirksey added.