Martin joins staff as marketing director
Thursday, January 6, 2011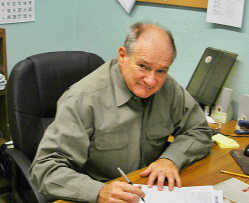 A familiar face to the people of Trumann and the surrounding area is the new marketing director for the Poinsett County Democrat Tribune.
Tom Martin was hired in December to take on the role for the paper.
"This seemed like a good opportunity to try to change things in the area," said Martin. "I know this area very well. I felt like this was a good challenge and a nice place to work. I feel I could do some good."
Prior to coming onboard at the Democrat Tribune, Martin was in municipal sales and marketing and municipal waste management. He also ran a direct mail and advertising company several years ago.
"While there, I did a lot of coordination with newspapers," he said. "I have the experience to build ads for large and small businesses. I can help local businesses create advertising."
Martin said he wants to start the process of working with local businesses on their advertising plans so they are not advertising just to advertise.
"I would like to work with these businesses," he said. "If they only have so much to spend per year, or month, I want to come up with an advertising program that will fit their needs."
Martin also wants the readers to remember the community's role in the community newspaper.
"This is a community newspaper and we want community involvement," he said. "If anyone has something coming up or knows of something going on, give us a call. We will be glad to cover the event. With a small paper like this, though, it is hard to get to everywhere we are needed. The more we have community involvement, the better."
Martin moved to Trumann from Little Rock. He and his family have been living in Trumann since 1994. His wife, Katy, is a fifth grade teacher at Trumann Intermediate School.
"All three of my children, Ashley, Melissa and my son Hunter, graduated from Trumann High School and played sports," he said. "We really enjoy this area."
Martin enjoys the Arkansas Razorbacks. He likes to play golf and babysit his three grandkids.
"I want to invite anyone to come stop by, say hello and look at the newspaper if they haven't in a while," Martin said. "We are open from 9 to 3. Everyone is welcome."
Martin may be reached at 870-483-6317.