Lady Warriors win NEA Tournament
Thursday, January 6, 2011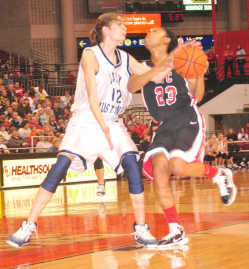 It was a battle between two ladies teams that know each other quite well: Buffalo Island Central and East Poinsett County. This time, the EPC Lady Warriors prevailed and won the NEA Tournament, 60-53, Friday in Jonesboro.
"We knew this was going to be a tough game against BIC," said EPC coach Bobby Lewallen, who last won an NEA Tournament with EPC in 2007.
"I don't think anyone in the crowd could be disappointed in that game," he said. "I am certain it was a fun game to watch. The girls played hard."
The game was tied 26-all at the half. EPC would pull ahead at times, but near the end of the third quarter BIC fought back with several three pointers.
"We let them get loose on us in the third quarter," Lewallen said. "I was hoping we wouldn't panic. The girls did a good job staying composed and staying in our game plan."
EPC was able to maintain the lead throughout the fourth quarter in a very uncharacteristic manner. They knocked down all their free throws.
"Free throws have been an Achilles heel for us in the past," Lewallen admitted. "We shot free throws really well in that fourth quarter. It's a different experience out on the main floor. This was a lot of our girls' first trip out on the main floor. Down the stretch the girls made the free throws when it counted."
Lewallen was ever the diplomat when asked if the championship victory over BIC was special for the team.
"Any time you can get a win at the NEA Tournament, in front of a crowd like we had, for us to be able to take the trophy back to Lepanto... we will take it against whomever," Lewallen said. "It's just nice to get the win. Our teams know each other very well. It was a match-up I am sure both teams were looking forward to and will go at each other again. You never know what the story will be when these teams get together."
Alicia Ross and Terrika Madden tied for leading scorer for the Lady Warriors with 14 points each. Brittany Ball had 11 points and 10 rebounds. Teria Young had seven points. Whitney Ball had six points, Keyerah Young netted five and Shaniqua Monk had three for the Lady Warriors.
Brittany Fowler had 22 points for the Lady Mustangs.
In the semifinals, East Poinsett County led every quarter in posting a 74-56 win over the Rivercrest Lady Colts.
The Warriors led at end of first quarter 14-13, and 30-27 at end of half. With great passing inside and command of the offensive boards EPC ended the third period on top, 54-35.
Lewallen said, "This was one of our best offensive games this year. Brittany had a huge game with 28 points. The other girls did a great job, looking for her. We knew we had a little mismatch in that position and they just kept getting her the ball. They are a good rebounding team, especially Aleta Cannon, so we knew if we were to win we had to control the boards."
Cannon had 30 points for the Lady Colts.
In addition to Ball's 28 points, Terrika Madden had 13 points, Keyerah Young 11, Alicia Ross nine, Whitney Ball eight and Teria Young added five points.