Nyal Drug owner is remembered
Thursday, January 6, 2011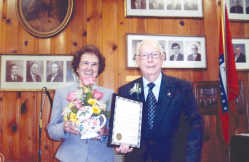 Marie Catalina Shinabery, owner/operator of Nyal Drug in Marked Tree, died Wednesday, Dec. 29, 2010, at age 88.
She was a member of St Norbert's Catholic Church.
Mrs. Shinabery, whose parents were from Italy, was born in Mississippi on June 1, 1922, and later moved to Turrell, Ark., with her family. She came from a large farm family. According to her son Randy Shinaberry, Marie's brothers and sisters worked on the farm while she worked in the kitchen with her mother.
"She would rather work in the house than in the open, even though they didn't have air conditioning back then," Randy said.
Marie learned cooking from her mother and became an excellent cook.
"She made the best divinity, and that was everybody's opinion," Randy said. "She rolled her own spaghetti and cut her own noodles. She was a whiz with a knife. She could chop an onion in her hand without cutting herself. Her recipes were simple: meatballs and spaghetti, lasagna, manicotti, ravioli. Dad would rather have her homemade spaghetti than anything else she made."
Marie lived through the Great Depression, but Randy said that she "never noticed the Depression because they never had much money anyway, and they always had enough food because they raised their own."
Marie later moved in with her sister, Mary Stignani, and worked in a grocery store. After World War II, she met Elmer "Shinny" Shinabery. Marie and Shinny married on Aug. 25, 1946. They bought Nyal Drug Store in Marked Tree and operated it until their retirement in 1992 when Marie was 65. Shinny was the first pharmacist in Marked Tree who was a college graduate. Randy said she was head bookkeeper for Shinny at the drug store and that "she was as much responsible for dad's success as he was."
The Shinaberys had five children who all became pharmacists as well. They started golfing in the 70s.
"She loved golf," Randy said. "She played golf every morning with Dad. They were also avid bowlers. One year Mom and Dad were on a team with Dr. and Mrs. Swindle. They won all the trophies that year. They had a ton of trophies." Randy added his parents would later give away the trophies with changed plates whenever trophies were needed.
Marie also was very active in the community.
"She was big in the Chamber and helped with the Little League, taking money at the gates. She took up donations for the Little League."
Marie was preceded in death by her parents, Augusta and
Justina Catalina; her husband, Elmer "Shinny" Shinabery; brothers Chester,
Evo and Nelson Catalina, and sister Faye McFarland.
Survivors include sons Randy Shinabery (and wife Becky) of Marked Tree, Vinson
Shinabery of Marion, Mark Shinabery (and wife Dede) of Maumelle, E. Lee
Shinabery of Little Rock; daughter Dale Farris (and husband Gary) of Nashville;
sisters Mary Stignani of Memphis, Tenn., Dorothy Barnes of West Memphis,
Clara Vescovo of Memphis; seven grandchildren and five great-grandchildren.
The funeral service was Friday, Dec. 31, at 10 a.m. in St Norbert's Catholic Church in Marked
Tree with Father Jack Vu officiating. Burial followed in Crittenden Memorial Park in Marion. Memorials may be made to St. Norbert's Church or Arkansas Children's
Hospital.