Rick Crawford Meets with Trumann Chamber of Commerce
Thursday, January 6, 2011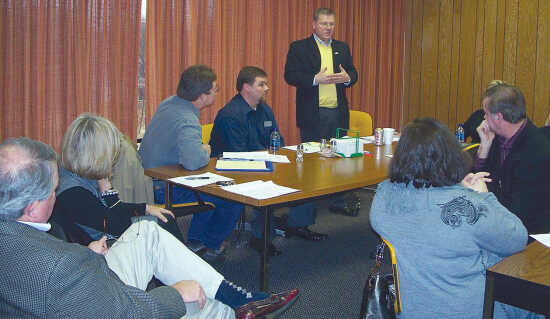 The Trumann Chamber of Commerce met with newly-elected Congressman Rick Crawford last week at Southern Bancorp to discuss the community's goals for the future. The purpose of the meeting was to meet with Rick Crawford personally and introduce him to Trumann's projects, both past and future.
Barbara Lewallen went over several goals the Chamber has for improving Trumann. These include installing street lights east of Highway 63 along Highway 69 after the State Highway Department's planned widening of Highway 69, extending the water and sewer lines to the west side of Highway 63, creating a data site on all Trumann industries and businesses and working with EAST Lab students on projects including a GPS location system for sites on the St. Francis River.
Some other goals include considering low interest loans or grants for businesses along Highway 63 for improving parking lots and building facades, supporting planning and zoning and the City Council in developing an ordinance requiring developers to create acceptable drainage for any new developments to help control flooding on existing property, and working toward funding for an adult education building, a detention pond, and a one-mile extension of Ditch 12.
The Chamber is also interested in improving the image of the community as "a good place to live with good housing and good schools," Lewallen said.
Chamber president Dr. Neal Vickers mentioned the bike trail issue and said he thought, "having bike trails would be a good thing for Trumann." He hopes bike route signs are up by this time next year. Vickers also mentioned that the Arkansas Game and Fish Commission is promoting water trails on the St. Francis River and the St. Francis Lake Association has the money to keep roads open to pre-existing boat ramps. "We're working on that and looking forward to kayaking and canoeing," Vickers said.
"Our intention is that Trumann become the desired place to live in this area," Vickers said. "It's all the benefits of Jonesboro, but you don't have to live there."
Crawford assured the Chamber that he is very familiar with Trumann. Crawford said that a high priority issue would be completing I-555, which he said lacked two miles of being completed. "I-555 will open the door to a lot of economic development," Crawford said, "and the wheels of economic development turn on highways." Crawford also said completing I-555 would mean a better chance of getting Highway 69 widened.
Crawford said that oversight would be big in the new Congress because of rampant spending. "The bad news is that there's going to be a moratorium on earmarks," Crawford said, "but that's okay. These projects are worth being talked about in the open. They need to be funded and are very worthy. I don't have a bit of problem presenting these projects. We have to be a little more creative accessing funds for grants. We've got to manage our expectations to a certain degree."
Crawford also mentioned that completing I-555 would be "the most relevant and pertinent project" to facilitate the other projects the Chamber has in mind.