Harrisburg school board issue on hold for now
Thursday, January 13, 2011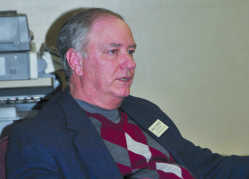 An effort to abide by a court order to draw lots for four positions on the interim Harrisburg School Board has been put on hold.
Harrisburg's five original board members planned to draw for the four positions in a meeting Monday night, but after board member Fonda Eaton left the meeting due to a family emergency, the plan was postponed. Harrisburg Superintendent Danny Sample said all parties must be present when the drawing takes place.
Controversy has swirled around composition of the board since the state Board of Education voted March 8 to merge the Weiner school district with the Harrisburg district to comply with a state law that requires Arkansas school districts to maintain an enrollment of at least 350 students.
In November, Circuit Judge John Fogleman ruled that Harrisburg School Board members Frankie Lindsey, Barry Massengill, Greg Reddmann and Eaton violated Arkansas law when they voted board member Byron Neal off the board in a meeting March 9 which Neal was unable to attend due to work. Neal had contacted the other board members to let them know he would not be present.
After Eaton had to leave the meeting Monday night, other board members contacted their attorneys and Neal contacted his attorney regarding the matter.
According to Arkansas Code Annotated 6-13-1412, a board can be reduced by voluntary resignation by a member or members or by the drawing of lots.
All parties agreed it would be best to meet at a later date to draw for the positions. Sample did not set a time, but said he will call a special meeting at a later date to discuss the issue.
Sample added that Fogleman's decision is being appealed by the board. The appeal is expected to be heard within 90 days and this may effect the outcome of the drawing of lots.
Todd Bartholomew represents Weiner on the new Harrisburg School Board.
Board memberse approved an extension of Sample's contract for one year. Sample expressed his appreciation to the board for the extension.
The board also announced that Weiner school is the recipient of a $16,900.13 CWIP grant award supplied by tobacco settlement money. The funds can be used for kindergarten through sixth grade.
In other business, the board:
* agreed to have a winter workshop Jan. 24.
* scheduled graduation May 19 at 5 p.m. for Harrisburg students and 7 p.m. for Weiner students.
* canceled a trip to Florida for the Harrisburg High School cheerleaders.
* hired Tammy Tuck and Heather Brown as cafeteria workers.
* reduced hours for employee Mindy Munger.
* approved a classified personnel salary schedule.