EPC boys sweep Walnut Ridge
Thursday, January 13, 2011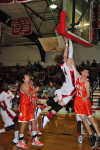 Without Rashad "Ky" Madden, the EPC Warriors were still able to cruise to a 82-34 victory over Walnut Ridge on Friday night in Lepanto.
EPC coach Josh Hill said Madden is fine but just needed some time to rest an ailing foot and ankle.
Despite the rout, Hill said this was not his team's finest effort.
"They lose focus in a game like tonight, Hill said. "There were times we played well and times we played terrible. Fortunately it was enough to win and we are talented enough to get a win when we aren't playing our best basketball. We definitely have some stuff we need to clean up from this game."
Jammar Sturdivant had 20 points to lead the Warriors. A.J. Turner followed with 18.
"Jammar Sturdivant was really good for us offensively," Hill said. "He was really consistent for us. He and A.J. Turner were both really consistent for us all night. They are both really good on the floor. Jammar really took advantage of being able to get to the hole all night."
Hill had a bunch of players to choose from to complete the starting five with Madden out. Hill picked a young man who has seen little game time but who has put in a lot of work during practice in Wendell Pritchett. Pritchett hustled hard and got the ball to the open man all game long, but only managed to score one point for the Warriors.
"With Ky being out, we kind of have to go with the flow," Hill said. "We went with who has been practicing well. Unfortunately, Wendell didn't play very well. But he needed to play. He's been practicing all first semester and didn't get to play. So it's nice to have him back."
Brady Jones and Martin Powell each had five points for the Warriors.
"Brady was pretty disappointed with some of his turnovers, and I was too, but he knocked down some shots for us," Hill said. "Martin Powell shot really well for us too."
Darius Barnes had 13 points, Byron Ford had six, Chaivey Freeman, Montana Betts and Trent Baugus each had two points.
Malik Monk and the Junior Warriors were too much for Walnut Ridge, as the EPC squad rolled to a 44-19 victory.
Monk had 23 points for the Junior Warriors. Paul Pilgrim had seven points. Chris Bly netted six, Byron Scales had four and Aaron Scales and Zack Maddox each had two points.
"Malik is as talented a seventh grader as you will ever see," Hill said. "He plays year round and is on an AAU team. But this junior high team always plays so hard. Tonight wasn't our best effort. But they play hard and are fun to watch. They may not have a lot of talent but they go at 100 miles an hour everywhere they go."