Despite MT effort, EPC takes two
Thursday, January 20, 2011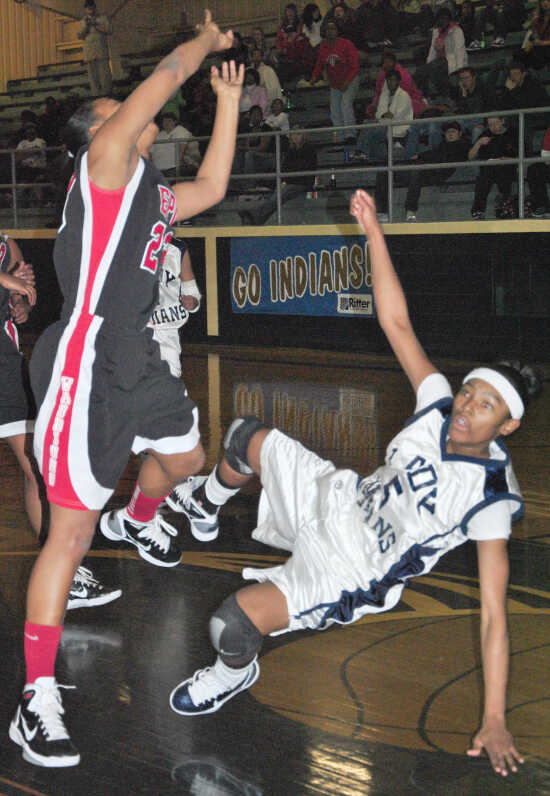 The Marked Tree Indians kept it close during the first half, but the EPC Warriors eventually pulled away to win 65-48 Friday night in Marked Tree.
After the first quarter the game was 17-15 EPC. The score was 31-28 EPC at halftime. After a flat start to the third quarter for Marked Tree and a difficult time landing a free throws, EPC began to pull away and after the third quarter the score was 45-36 EPC.
"Marked Tree is really talented, said EPC Coach Josh Hill. "They have some really good players. They played well early and I was disappointed in our composure. That was all we talked about at half time. We are the team that has been to three straight state tournaments. We have been in finals. This is not a big deal. It is a really loud gym. Our communication was bad. That hurt us. But we addressed that at halftime. The kids did a good job. Our zone was really effective in the second half."
Jammar Sturdivant led the Warriors with 22 points. A.J. Turner had 14 points, Byron Ford had 11 points, Wendell Pritchett had 10 points, Brady Jones had four points and Darius Barnes had two points.
"Jammar was really good with the ball tonight," Hill said. "AJ's dunk pretty much ended the game. It was unbelievable."
"Free throws have been our weak point all year long," said Marked Tree Coach Barbara Wilburn Covington. "We work at it. It just seems like we can't knock them down in a ball game. We did extremely well in that first half. It seems like when we go into halftime, we shut down completely instead of continuing at the pace we were. I have seen teams do this before. Usually we have a bad third quarter and we will pick it up in that fourth quarter. EPC went into a zone and really shut us down. They played man in the first half and we were able to stay with them. They are a great team. They have athletes."
Darius Ivy and Allen Buchanan each had 16 points for the Indians. Zach Bond had five points, Jagger McCrary had four points, Thadious Moore had three points, Gunner Pitts and Chris Montague each had two points.
"The whole team did as best as they could," Wilburn said. "We need for all of them to get better in their positions. This same bunch will be back next year with a couple from the junior high squad. We are young and I understand, but I think it will come around."
According to Hill, EPC's Rashad Ky Madden was still out nursing an injury. Madden gave fans a bit of a jolt at about the 7:39 mark of the third quarter. He jogged out on to the court from outside Marked Tree gymnasium with a number 21 EPC jersey on. The EPC crowd cheered while the Marked Tree fans were heard booing.
"He is resting," Hill said of Madden. "We want to make sure he is 100-percent for tournament time. I think that kind of threw Marked Tree off a little. He is our six man we play without him. We are just going to play. That's become our philosophy because any body can get hurt any night. We have to play with the guys that are ready to go."
EPC's junior boys trounced Marked Tree 45-9.
Malik Monk had 15 points for the Junior Warriors. Byron Scales had 13 points, Paul Pilgrim had four points, Aaron Scales, Chris Bly, TJ Young and Quin Young each had two points.
Octavious Dean had six points for the Junior Indians. Terry Carter had three points.
"They played hard," Hill said of the Junior Warriors. "They always play hard. They played really well defensively. They just keep plugging along and getting better."