Hometown celebrity draws big crowd
Thursday, January 27, 2011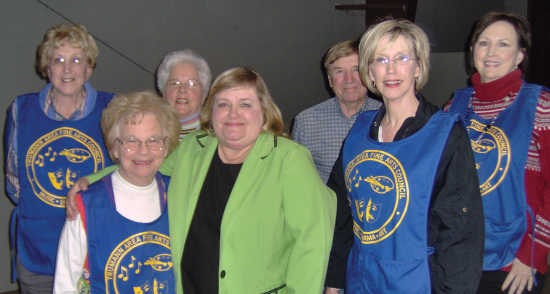 A large crowd of county residents assembled at the Trumann Recreation Complex Saturday night to listen to Judy Byram and The Double Edge Band.
Judy is a Trumann native and daughter of the late Bill and Velma Byram. She returned to her hometown to entertain her friends and the area at the request of the Trumann Fine Arts Council.
Barbara Lewallen and Letha Owens were the council members that headed this great attraction.
The Double Edge Band originates out of Nashville, Tenn. Band members are regulars at the Little Grand Ole Opry. Judy also sings the National Anthem at the Memphis Grizzles pro basketball home games on a regular basis.
After intermission, Judy mingled with her friends and teachers. She especially enjoyed visiting with her music teacher Dorothy Martin, and teacher Erin Coggins.
It was a great time and good music. The highlight of the concert was her rendition of "America The Beautiful" in honor of those in the military who serve our country.
She also stated, "There are a lot of factions in the world that would like to take our freedom from us. It is our job to see that it doesn't happen. This is a great country and we would not be here enjoying this time if we did not have our freedom."
She closed the night with a few gospel songs and ended with " I'll Fly Away."
The band members are Roy Waddell, Teddy Robbins, David Ray, Randy Shields and Don Cornell.
After the final song, Waddell said "You all know Judy and before we leave we would like to visit with the people that Judy adores."
Before the band began breaking down, they all went into the audience and talked with anyone who had stayed. It was great music, fellowship and a wonderful time was had by all who attended.