EPC ladies stun BIC, move to first
Thursday, January 27, 2011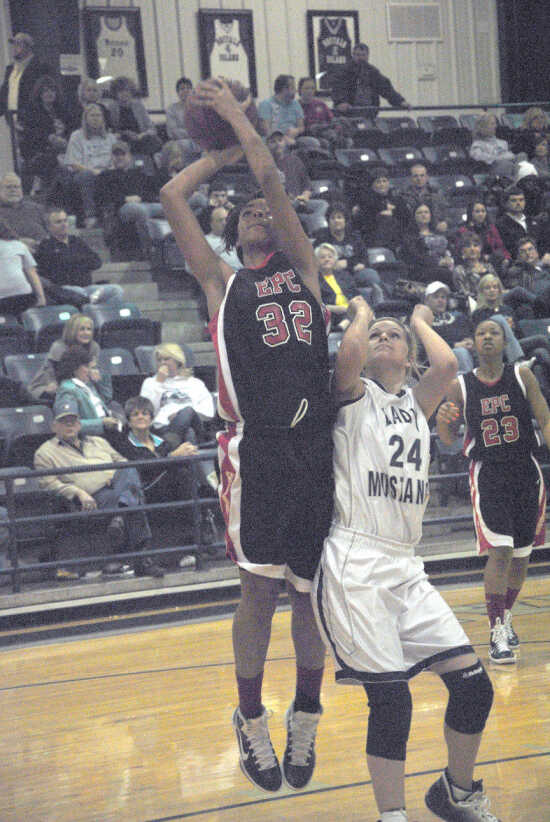 The EPC Lady Warriors went into the second quarter with a 16-0 lead over the Buffalo Island Central Lady Mustangs Friday in Monette. The Lady Warriors didn't look back as they won, 58-39, and slid into first place in the conference and almost assuring themselves a number one seed in the 2A-North District Tournament.
"This was a huge win for us tonight," said EPC coach Bobby Lewallen. "This win puts our records tied. But we get the tiebreaker due to points. So right now, we are the number one seed. But we have three tough games coming up. We go to Maynard, to Rector and Riverside is coming to Lepanto."
The 7:39 mark of the second quarter was when the Lady Mustangs finally scored with Brittany Fowler knocking down a jump shot. The Lady Warriors went into halftime with a 32-7 lead and were up 48-27 at the end of the third quarter.
"The way we started out this game was the key for us," Lewallen said. "Defensively, to hold a team like BIC to seven at the half, that really says a lot for our defense and how hard we played. They have two of the best scorers in our league."
Brittany Ball had 19 points for the Lady Warriors. Keyerah Young had 12 points, Alicia Ross had eight points, Teria Young had seven points and Terrika Madden had five points.
"Alicia Ross is just a good player," Lewallen said. "She is just a sophomore. The more minutes we can get her out on the court, the better she gets. She has really come on strong lately. We really like having her come off the bench. She gives us size for rebounding. And she can score too."
Fowler led the Lady Mustangs with 14 points.
The Junior Lady Warriors defeated BIC, by a score of 30-28, on a last second jump shot from Alyson Phillips.
The game was fast paced and the lead changed hands several times. At halftime, BIC led 15-9. The Junior Lady Warriors kick-started the second half with some high pressure defense. At the end of the third quarter, BIC still led with a score of 19-18.
"We started out really well," Lewallen said. "We went on a 9-0 run. And then we had a bit of a problem. We couldn't get any shots. We had about nine minutes where we didn't score. I told them we had to get back into it one possession at a time."
Melissa Baldwin led the Junior Lady Warriors with 10 points.
"Melissa had a really good game," Lewallen said. "A post player was matched up with her most of the night. She didn't want to go out to the perimeter with her. Melissa got some good shots."
Synteria Ward had foul trouble for most of the game. She fouled out of the matchup in the fourth quarter with six points. Jacie Weaver had eight points.