Ribbon cutting is held at Harrisburg Welcome Center
Tuesday, February 8, 2011
The new Harrisburg Welcome Center held its ribbon cutting Monday. The building, which is on 200 East Jackson Street, houses the offices for the mayor, city treasurer and the Harrisburg Area Chamber of Commerce.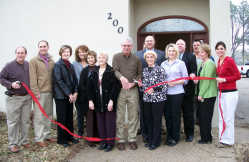 According to Tina Price, director of operations for the Harrisburg Chamber of Commerce, the building used to be the old Post Office before it was renovated and used for lawyers' offices.
The Welcome Center soon will hold an open house.
The Chamber's new phone number is 870-578-4104 and the e-mail address is: harrisburgchamber@pcsii.com.
The Chamber currently is working on a website which should be up in a month. The Chamber soon will have a membership drive. Anyone interested in joining the Chamber of Commerce should contact Tina Price.