New body cameras provide extra eye for police officers
Tuesday, February 8, 2011
In the Green Lantern comic books, every Green Lantern is equipped with a power ring which, in addition to conjuring anything their user can imagine, records everything that happens during arrests so that a holographic recording can be used later in court.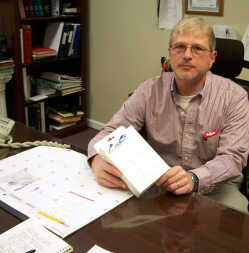 The Trumann Police Department may not have power rings yet, but the department moved one step closer to that sci-fi world with the purchase of Scorpion body cameras for all its officers.
"We bought 15, one for each officer and one for me," Chief of Police Tony Rusher said. "They're super good, and they're not expensive."
Officers will wear the two-inch camera on their uniforms. The camera stays on all the time and has a button that activates audio and visual recording with a recording time of four hours. When an officer thinks he may need a recording of what is going on, such as when entering a residence, all he has to do is push the button.
The body cameras will be helpful as an extra eye that can go where the squad car cameras cannot.
"They're great tools for false allegations," Rusher said. "The car cameras are useless on domestic disturbances where an officer has to enter a house. This camera will be even more helpful than the car cameras at traffic stops. This is a big plus. The officers are excited. There are so many false allegations out there today. Now if they get accused of something, they can bring in the camera. They're so simple to use. You can plug them into a computer, save it to a disk or jump drive, and take it to court. These are a big plus for court."
Department policy outlines the use of the cameras and the procedures involved. Every officer will receive a copy of the policy.
The body cameras cost about $100 each, which is a tiny fraction of the $5,000 price tag car cameras carry, Rusher pointed out. They were purchased with seizure money the Trumann Police Department received for helping the DEA on a case.
"The DEA got 20 percent and we got 80 percent of the seizure money," Rusher said. "It can be used on anything for law enforcement."
The cameras were purchased from Arkansas Police Supply in Jonesboro.
"It's a great tool for officers," Rusher said. "We want people to know we've got them. There's nothing secretive about it."