Rotarian demonstrates handcrafting checkerboards
Tuesday, February 8, 2011
People bidding in Marked Tree Rotary Club's auction this March are sure to notice some beautiful handcrafted checkerboards up for auction. They are made by Rotarian Bill Stanley, who demonstrated for the Rotary Club last week how he makes his checkerboards step-by-step.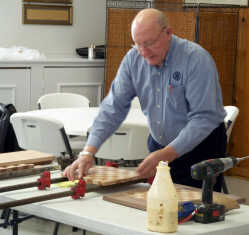 The first step is collecting the material and making sure the boards are large enough to cut the 64 one-and-a-half inch squares. In the examples Stanley brought, he had used cherry wood for the dark squares, maple for the white squares and walnut for the borders.
"I made an oak and cherry board before too," Stanley said, "but I like maple better."
After figuring out the size of the board and calculating how much material will be used, he cuts out squares for the board, then glues these pieces into strips. The strips are then placed together on top of two clamps, with the best side facing down.
Then he flips all the strips onto their sides and spreads glue across the edges, lays them down flat together again and tightens the clamps. Two clamps are used on the bottom and one on the top to keep the board flat, and later on the edges can be clipped with a table saw for a true fit. The strips need to stay clamped for 24 hours to let the glue dry.
The boards have to be planed before they are glued together or chunks will be stripped out. After the pieces are glued together, they can only be smoothed through sanding by hand.
For the border, Stanley suggested finding a board you can get four 16 inch long pieces out of so that all four side pieces will match. After the sides have been glued to the board, Stanley flips over the board to put screws in the bottom and attach to sides to each other. He uses a tool that lets him drill screws in at a 70 degree angle and plugs the hole with a piece of walnut. He then attaches either a piece of plywood or plastic and a felt pad to the bottom, and finishes the board with lacquer. He also uses a mixture of powder and glue to fill in any cracks.
"I just read about making checkerboards in a magazine and thought, 'Hmm, I could do that too,'" Stanley said. The board shown will be in the Rotary auction this year, which is scheduled for March 12. Stanley made a couple of magazine racks for last year's auction.