Gospel singing benefit Feb. 12
Tuesday, February 8, 2011
A benefit for Alana Bond will be held at 7 p.m. Saturday, Feb. 12, in the Marked Tree High School auditorium.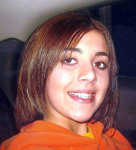 The event will be hosted by In His Grace Southern Gospel Singers, who will perform with guests Doug and Suzie Timbs, all from Trumann. Everyone is invited to attend. Admission is donations.
Alana is a 14-year-old ninth grader at Marked Tree High School. She is the daughter of Jeremy and Tracy Bond. In July, she developed a mass in her chest and several in her brain. She was in Arkansas Children's Hospital until September and currently is receiving medical treatment at home but regularly goes to Little Rock for treatments and tests. The disease has not yet been diagnosed.