Joe Waleszonia speaks to Lions Club
Tuesday, February 8, 2011
Joe Waleszonia, superintendent of Trumann Schools, spoke Wednesday, Jan. 26, to the Trumann Lions Club about the upcoming district basketball tournament, to be held the week of Feb. 14 at the Trumann High School gymnasium.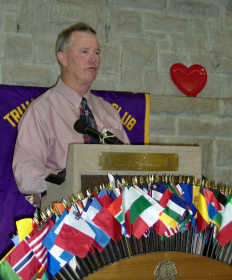 The tournament is for senior boys and girls of Division 4A.
"We are excited to have this chance to sell the city of Trumann," Waleszonia said. "Our senior boys are short in experience, but they play hard and are very competitive. This will be an exciting week for the city and the merchants of Trumann. Trumann hasn't hosted any division, regional or state tournament since 1958."
Waleszonia noted there is a great need for volunteers for that week. The host team has responsibility for the hospitality room that supplies food and welcome information for the visiting teams. Those interested in helping the Trumann School make a really good impression on visitors may contact the high school at 870-483-5301.
The school has a really great facility to host the event. Visiting teams have remarked that it is the best high school gymnasium in Eastern Arkansas.
The following week will be the regional tournament and it will also be played in Trumann.
Waleszonia invites everyone to come to watch the kids and support Trumann activities.