NFL ref emphasizes involvement, risk-taking in banquet speech
Tuesday, February 8, 2011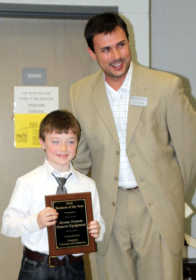 National Football League referee Walt Coleman was welcomed with applause as the guest speaker at the Trumann Chamber of Commerce Industrial Appreciation Banquet. However, as a referee, Coleman said he was not used to applause and would feel more comfortable if the crowd booed him instead. This humorous opening comment set the stage for an entertaining and inspirational talk.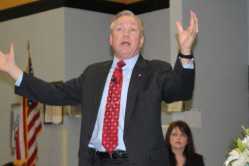 Coleman, who started officiating in the NFL in 1989, said, "one of your challenges in life is figuring out how to turn boos into cheers. Remember that when you're involved, you open yourself up to having people disagree with you."
Coleman related the story of the first junior high school game he officiated. "It was Mountain Pine versus Mount Ivy. And this was a junior high football game, which means it was a matter of life and death. I was on the sideline of Mountain Pine. They were getting killed, and for some reason it was my fault. When the game is over, the officials run off the field. That's one of the things my dad told me. He also said to be sure you back your car in."
At the end of the game, Coleman ran off the field, only to be chased by the Mountain Pine coach. The coach caught up to him and slipped a piece of paper into his pocket. The paper cited two Bible verses, Matthew 27:5 and Luke 10:37. When Coleman looked them up later, he found they said, "So Judas threw the money into the temple and left. Then he went away and hanged himself," and "Jesus told him, 'Go and do likewise.'"

"You never know what to expect," Coleman said. "You can be around the greatest people in the world, and stuff happens. You just have to be comfortable with yourself."
Coleman also emphasized that getting involved and putting yourself "out there" opens up the risk of embarrassment. When he started officiating in the NFL in 1989, Coleman was a line judge. He said he felt hidden since he stood along the bench, but this meant that everyone behind him could see every time he reached for his penalty flag, even when he decided not to throw it. To stave off the yelling, he moved the flag from his back pocket to the front of his pants, but during the second quarter he was called to the middle of the field for a replay review. As he ran across the field, his zipper broke loose and the yellow penalty flag worked its way through the hole.
"Stuff happens," Coleman said. "I had to remember that if I hadn't made the decision to be an official, that wouldn't have happened."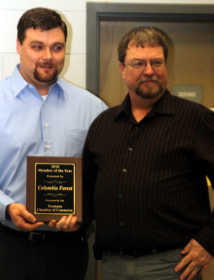 While being involved does open people up to embarrassing themselves in front of large groups of people, Coleman emphasized it is still an important thing to do.
"What I do is important. You couldn't play without officials, just like we need firemen, police and politicians. It's important. We still live in the greatest country in the world, and it was built by people willing to stick their necks out and get involved, take risks and take criticism. And we still have those people."
Coleman closed his speech by reading the poem "The Arena" by Teddy Roosevelt.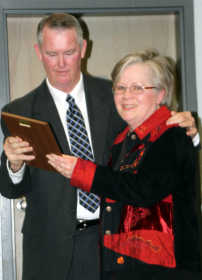 "I know you're in the arena every day," Coleman told the audience. "That's what it takes, and it's not easy. All we expect out of you is to be perfect and get better. We have to strive to be the best we can be. If we do that, everything will take care of itself."
The Chamber of Commerce also presented several awards at the banquet. Educator of the Year went to Myra Condra. Business of the Year went to Osment Construction Company.
The award for Outstanding Citizens/Volunteers went to Southern Bancorp employees, who helped Trumann receive Volunteer Community of the Year honors for 2010. Board Member of the Year went to Barbara Lewallen.
Columbia Forest Products was recognized as Chamber Member of the Year.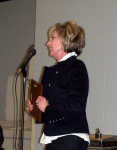 New Chamber chairman Neil Vickers presented a plaque to Anthony Patterson for his years of service as Chamber chairman.