Benefit auction, chili dinner set Feb. 5 for Trey Hindman
Tuesday, February 8, 2011
Trey Hindman's parents knew even before he was born that their son may need a heart transplant one day. Two and a half months before he was born, Mark and Tabitha Hindman of Tyronza were informed their son had hypoplastic left heart syndrome, a rare congenital heart defect in which the left side of the heart is severely underdeveloped. Treatment of the condition requires several heart surgeries.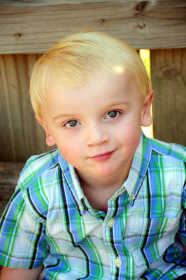 Trey was born at UAMS in Little Rock on Aug. 6, 2007, weighing 6 pounds 9 ounces. He was transferred to Arkansas Children's Hospital shortly after.
He had his first open heart surgery when he was just three days old.
"I can honestly say that Aug. 9, 2007, was the worst day of my life," Tabitha Hindman said. "When my husband and I walked into Trey's room to see him after the surgery, I saw him lying there and I hurt more in that second than I ever have in my life. I would have taken his place a hundred times over if I was given the chance."
Trey was taken to the operating room for another heart surgery on Aug. 17 and did not leave the hospital for 90 days.
"When he was first born, he was in the hospital for three months," Tabitha said. "He had two open heart surgeries, then came home for three months, then had another surgery. Those surgeries were basically rerouting the plumbing in his heart. The first eight months of his life were difficult. He was behind on things like sitting and walking. He didn't start walking until he was 16 months old."
After he turned 16 months, Trey was fine until October of last year.
"After his surgeries, Trey was fine. He was just like any other boy. He was running and playing. The day before he got sick, he was playing with his brothers and chasing the dog," Tabitha said.
In October, Tabitha called Trey's doctor about an abscess on Trey's chest. Trey went to the OR for a washout and culture of the abscess. Then, in December, Trey started running a fever. The doctors found that bacteria had gotten into the abscess and caused an infection. On Dec. 17, 2010, Trey had surgery to get rid of the infection. He was discharged on Dec. 23, but Tabitha said he didn't recover from surgery like he should have.
"He was not at all himself. He wasn't sleeping well and was exhausted. After a week of being at home, his sleeping pattern had gotten worse. He was having night terrors and he had absolutely no energy. He was so weak."
Tabitha took Trey to his pediatrician and cardiologist several times. Then on Jan. 9, Trey's skin was gray mottled. Tabitha took him to the emergency room in Little Rock and found out he had congestive heart failure.
"We found out his heart wasn't working. The infection took what heart function he had left," Tabitha said.
Trey was put on medication to increase his heart function, but after a few days his heart had not improved enough to take him off the medication.
"It was decided then our only option would be to get Trey put on the transplant list for a new heart."
Trey was put on the heart transplant list as a high priority on Jan. 17. He will be in Arkansas Children's Hospital in Little Rock awaiting a transplant.
"We want to thank our family, our friends and the community for their support and ask for prayers for our family," Tabitha said.
A benefit auction and chili dinner is set for Saturday, Feb. 5, at the EPC gym in Tyronza. Friends of the Hindmans want to help them with the expenses of driving back and forth to Little Rock.
Chili serving starts at 4 p.m. and the auction starts at 5 p.m. Any donations will be greatly appreciated. For more information, call Clara's Café at 870-487-2090, David Wood at 870-243-4914 or go to the "Built Trey Tough" Facebook page.