Lepanto sports complex preparing for baseball
Thursday, February 10, 2011
Construction on Lepanto's Sports Complex was completed in September of 2010, but there is still a lot of work to be done before it can open for play this baseball season.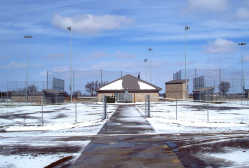 A committee has been meeting to assess what needs to be done and will give the list to the city council for approval. EPC Superintendent Michael Pierce, who is on the committee, said, "The committee has no authority. We're trying to get all the information together for the city council. The city council will vote on what to do."
Some of the things that need to be done include updating the contract with beverage companies for funding and getting scoreboards and sponsorships. Baselines and infields need to be cut on all four fields.
"We're ordering dirt for the fields so that wind blowing sand up won't be an issue. It'll make a good surface," Pierce said. "We need supplies for the concession stand and picnic tables for the food court area. We bought bases. Those need to be able to be moved to three different distances for the different age groups."
Pitcher mounds also will be built on two of the fields, while two portable mounds will be purchased that can be removed for different age groups or softball on the other two fields.
Pierce also said volunteers will install sprinklers on the two smaller fields.
"We're trying to determine what needs to be done and getting bids," Pierce said. "We want to get done by the first of March, but the weather's not cooperating. It's a big project. It's like eating an elephant. You just take it one bite at a time."