AETN goals explained to Trumann Rotary
Thursday, February 10, 2011
The founding and growth of the Arkansas Educational Television Network (AETN) and its programming and goals were discussed by Mike McCullars, AETN's director of research, grant and special projects, at a meeting last week of the Trumann Rotary Club.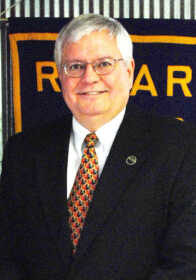 AETN was founded in March of 1961, McCullars said, "to educate young people and stop the spread of communism during the Cold War, with the idea that an informed public would allow for free democracy."
Arkansas had its first transmitter in 1966 and, by 1980, there were four.
"And then the Berlin Wall fell right after," joked McCullars. "In seriousness, television has helped make significant changes in our society and AETN's mission has been to serve the public, not money."
AETN also partners with Arkansas Education and teachers to provide online courses to help teachers pursue both higher learning and materials for the classroom.
"This is a resource tool teachers have access to," said McCullars. "AETN provides thousands of video clips and guides for students."
AETN is not only a tool used by teachers and students, but is meant to give the public access to information that is relevant to them.
"We are the only broadcaster in the state created to provide our state's history, heritage and culture," said McCullars.
He noted AETN produces shows like "Exploring Arkansas" with Chuck Dovish, which looks at the people, places and activities in the state; "Men and Women of Distinction," which examines the lives of influential people in the state, and "On the Same Page," which is a book program featuring authors from the area.
There also are several projects in development that AETN is producing. Some documentaries include "Disfarmer: A Portrait of America," "Is You Is: The Louis Jordan Story" and "Prohibition in Arkansas."
AETN also broadcasts several hours of shows a week aimed at children. These shows are meant to provide not only education, but self-worth.
McCullars gave the example of Fred Rogers' show, "Mister Rogers' Neighborhood," through which children are taught they are a person of value through creativity.
"My wife had a stoke 11 years ago," said McCullars. "The speech therapist instructed her to watch shows like Mister Rogers' Neighborhood and Barney. She was instructed to sing and to count with them."
After a pause, he added, "And today she's singing in the choir."
McCullars also said organizations that provide public educational broadcasting are having problems with their funds being cut. The federal government pays for 10 percent of funding for AETN, and Congress has recently targeted broadcaster funding as a way to cut costs.
"The total amount of money the government spends in one year to help keep these broadcasts alive is the same amount of money the government spends in one hour," McCullars noted. "If you would like to help keep government funding for educational programming in Arkansas, contact your local Congressman and tell them about the impact AETN has had on you."