Advantages of temp workers topic at Marked Tree Rotary
Thursday, February 10, 2011
Marked Tree Rotary Club guest speaker James Frans spoke about the advantages of using temporary employees in a talk to the group last week.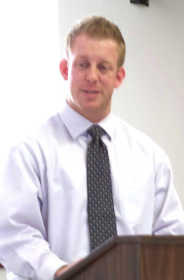 Frans, marketing representative for AID Temporary Services, Inc., has been with the company since June of 2008.
AID Temporary Services was established in 1978 by a local businessman who saw a need for temporary employees. The company still is locally owned and operated, with seven locations in Joneboro, Batesville, Mountain Home, Osceola, Pocahontas, Memphis and Southaven.
Frans, who works out of the Jonesboro location, said one of the things he likes about the company is that it "lets you test drive people like a car."
"You can bring someone in on a temporary basis and put them on your payroll permanently if it works out -- or send them back if it doesn't," he said. "Someone can look great on paper or in interviews but may not be good on the job. That's a good reason to use a temp service."
Frans said the company offers temporary-to-hire and direct hire.
"We run ads on Region 8 and Monster and other sites, do interviews and send the info to you. It saves you the trouble," Frans said.
In addition to interviewing and screening applicants, AID Temporary Services also processes the payroll and handles terminations should the need arise.
A temporary employee can become a permanent employee after 90 days, but they don't have to.
"Some companies keep them on the payroll for longer because it's cheaper," Frans said, "but you might not get the best out of an employee if they are kept on a long-term temporary basis.
AID offers insurance and vacation after one year for temps.
When asked about the economy in Northeast Arkansas, Frans said the company's calls for temporary workers has picked up after the first of the year compared with 2009-2010.
"We're getting close to what we were running in 2008," he noted.
AID Temporary Services provides employees for clerical, labor/industrial, service and commercial businesses. When asked if they get many college students, Frans said, "Sometimes, but not a lot. They mostly do retail and food service jobs."