Trumann mayor outlines issues in talk to Lions Club
Thursday, February 10, 2011
Trumann Mayor Sheila Walters gave a brief overview of 2010 activities in the city and a look at what is expected in 2011 in a talk last week to the Trumann Lions Club.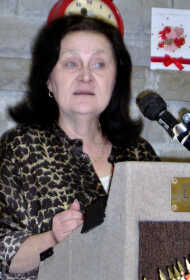 "2010 was a very difficult year financially for cities with the lack of job opportunities and increased utility costs," she began. "We made it okay. We still can be okay."
Walters said Trumann was blessed with a bond issue in 2008 that carried the city through the last two years.
"It has allowed us to fix some of our streets and upgrade city buildings," she said. "I think we have made some good investments. We fixed up the tennis courts, which was badly needed. I have had a lot of positive compliments about them. These upgrades in the city's facilities will bring people to Trumann and they will spend money -- and that is what we want.
"I think we have a very good city council taking office this year," she continued. "It seems they are more involved than other councils I have been associated with. I don't mean that is good or bad, just that they are more accessible."
Walter said city officials are working on a new employee handbook that is badly needed to keep the city up-to-date.
"Regulations change, and our policy hasn't been updated since 1995," she said. "It will take us maybe six months, but we are going to tweak it and tweak it until it is right. We meet every two weeks for one hour."
Walters said the city currently is looking at two items officials plan to pursue in 2011. One is a pit bull ordinance.
"I have received some ordinances from other cities in Arkansas that address this issue and will use them to help us develop a good ordinance," she said. "The other is that we are contemplating having licensing fees for cats and dogs. We have a new animal control person who is doing a very good job. We have been fortunate to have a donor who has helped with food for the pound, but that could run out. This fee will help offset the cost of the animal pound."