Longtime Marked Tree community worker dies
Thursday, February 10, 2011
Longtime Marked Tree community worker Gloria Nichols Ritter McCord, most recently of Memphis, Tenn., died Monday, Feb. 7, at age 86 after a brief illness. She was surrounded by her family.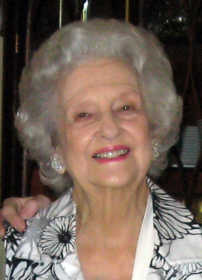 Mrs. McCord was the first woman elected to the Marked Tree School Board, the first woman Chair of the Board of Marked Tree Bank and the first woman to serve on the St. Francis Levee District Board.
She was born July 8, 1924, to parents Ethel and Peter Nichols in New Haven, Conn. She was preceded in death by her parents and her brother, Everett T. Nichols.
Gloria had planned to become a registered nurse and attend nursing school at Columbia Presbyterian Hospital. However, during her sophomore year at Goucher College, she met the love of her life, Louis Ritter Jr., a midshipman at the U.S. Naval Academy, and her plans changed. After graduating from Goucher College with a degree in physiology, they married and later settled in Marked Tree, where they spent 25 wonderful years together raising four daughters.
After Louis' death in 1971, Gloria continued to make her home in Marked Tree, raising their four daughters and remaining active in community volunteer activities and projects. In addition to her other service, she was a faithful and active member of the First United Methodist Church, where she served on numerous committees.
After the death of her husband, Charles McCord, to whom she was married for five years, she moved to Trezevant Manor and became involved in the community there. Among other things, she served on the Altar Guild for Allen Morgan Health Center, served as a Lector in St. Edward Chapel, and sang in the Chapel choir.
Gloria was most known and loved for her gentle, kind spirit and compassion and her beautiful smile. She had a unique ability to discover the best in others and to point it out to them. Her family was the pride and joy of her life. She maintained a curiosity about life that enabled her to see it as a daily adventure. As a consequence, she loved life and lived it fully, well, and faithfully to the very end. The world was blessed by her presence.
Gloria is survived by her four daughters, the Rev. Robin (Dan) Hatzenbuehler of Memphis, Randi (Mike) Wilder of Burlington, N.C., Ronda (Steve) Ray of Jacksonville, Ala., and Rynnett (Wayne) Clark of Conway; her 10 grandchildren, Jennie Wilder Kristiansen (Erik) of North Carolina, Dr. Mark Louis Hatzenbuehler of New York, Dr. Katy Wilder Schaaf (Matthew) of Virginia, William Louis Ray of New York, Liz Hatzenbuehler Hibler (Matt) of Colorado, Lori Leanne Ray of Illinois, John Michael Wilder (Audrey) of North Carolina, Julia Miles Wilder of California, and Nichola Allyson Clark and Natalie Erin Clark of Arkansas, and one great-granddaughter, Eleanor Nichols Kristiansen of North Carolina.
Visitation will be at 10 a.m. Saturday, Feb. 12, at Grace-St. Luke's Episcopal Church in Memphis, followed by the service at 11 a.m. A reception will be held at Trezevant Manor at 12:30 p.m.
In lieu of flowers, memorial contributions may be sent to Trezevant Manor Foundation in Memphis or to the First United Methodist Church in Marked Tree. Private burial will take place in Marked Tree at a later time.