Tyronza six-year-old is named honorary fireman
Thursday, February 10, 2011
How do you make a six-year-old's day? You make him an honorary fireman -- and that is exactly what the Tyronza Volunteer Fire Department did for Houston Daniels on Friday, Feb. 4.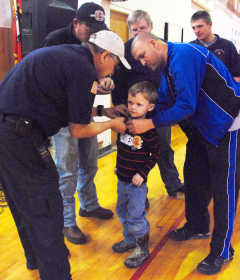 Daniels has had complications with his stomach since birth, but over the last few weeks has had to go through surgery after surgery and complication after complication. He spent three weeks at Arkansas Children's Hospital after he had surgery for his feeding tube and then suffered complications.
Daniels is a kindergartner at the Tyronza East Poinsett County Elementary School, and when staff members heard about his latest episode of surgical problems, they sprang into action to help his family.
Faculty members organized a basketball game in Daniel's honor, with a $2 entry fee to watch the game. All proceeds went to help his family.
Houston's mother, Crystal Davis, said the efforts will help the family catch up on some of the hospital bills.
"It was really a team effort," said Tabatha Burcham, an EPC faculty member. "The staff worked together and organized the ballgame, especially after the complications with his last surgeries."
The basketball game consisted of the fifth graders playing the sixth graders and the sixth graders playing the faculty.
During the game, Daniels was called down to the court and was pinned by Tommy Baine, the Tyronza Fire Chief, as an honorary fireman. Young Daniels has always had a fascination for fire trucks and enjoys visiting the fire station with his grandfather, Freddy Jenkins, a fireman with the Tyronza Volunteer Fire Department.
This is not the only fundraising movement the school has undertaken. The elementary students helped raise over 486 pounds of coins for Trey Hinderman, a three-year-old Tyronza boy, who is awaiting a heart transplant. The school also put on a chili dinner last week, with the proceeds going to Trey's family.
The school also designed T-shirts to sell, which read "Built Trey Tough" and have Houston's name written in a fire design.